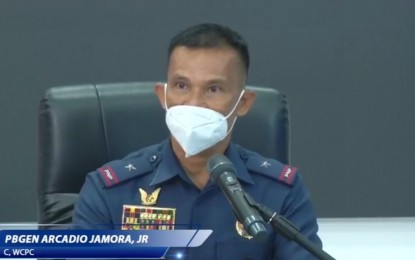 MANILA – Authorities rescued 12 minors and arrested two adults allegedly acting as facilitators of online sexual abuse and exploitation of children (OSAEC) in separate operations.
In a press briefing in Camp Crame on Friday, Brig. Gen. Arcadio Jamora Jr., chief of the Philippine National Police-Women and Children Center (PNP-WCPC) said the operations were conducted after a series of tedious surveillance activities as the suspects constantly shift from one location to another from time to time.
Citing reports from the ground, simultaneous operations conducted at around 7 p.m. on Thursday resulted in the arrest of one suspect and five minors in Barangay Muzon, San Jose del Monte City, Bulacan, and another suspect and her two children who were also victims of the illegal activity in Barangay Guinarona, Dagami, Leyte.
Earlier on Thursday, five female minors who are victims of a high-profile suspect in Europe were also rescued in an operation in Taguig City. The victims, aged 7 to 15 years old, are students of an elementary school in the city.
Jamora said the transaction for each livestream facilitated by the suspects ranges from USD50 to USD100 (around PHP2,800 to PHP5,700).
"The reason they (victims) are in this is money. Monetary gain, it is an online transaction because during the pandemic, more people go online," he added.
Jamora said they were made aware of the suspects' activities after the United States Homeland Security Investigation in Manila referred the case to the PNP through the WCPC Transnational Crime Investigation Task Force (TCITF).
The report said two Filipinos based in Bulacan are selling and/or distributing child sexual abuse and exploitation materials online and are making transactions through social media.
"The WCPC realized the seriousness of the case when the German Police, the Nordic Liason Office, and the Australian Federal Police had also the same referrals, stating that they are currently investigating or have arrested citizens of their countries who have bought CSAM, live and offline, from the suspects, along with information that more than 20 Filipino children were abused in the materials that they were able to obtain," Jamora said.
The PNP-WCPC said that since June, they built 10 casing and surveillance operations in Luzon, where they located the suspects as the transactions happen online.
He said the area in Bulacan where one of the suspects was arrested has been the subject of entrapment and rescue operations by the WCPC for the past few months where more than 20 victims have been rescued.
They will be charged in violation of RA 11930 or the Anti-Online Sexual Abuse Exploitation of Children and Anti-Child Sexual Abuse or Exploitation Materials Act. (PNA)