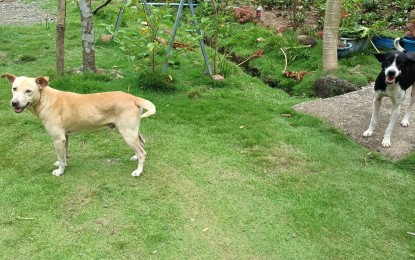 ILOILO CITY – Iloilo has reported 79 canine-positive rabies cases and made more alarming by five human deaths, the provincial veterinarian said on Friday.
Dr. Darel Tabuada said in an interview that 73.23 percent or 52 of the canine rabies cases as of Sept. 15 were due to stray dogs.
A dog is considered a stray once it gets out of the owner's premises and the latter has no immediate or direct control over it.
The solution, according to Tabuada, is to impound stray dogs and responsible pet ownership should be practiced.
The municipal government will have to take care of stray dogs with no owners, he added.
"We appeal for everyone to be responsible owners. Let us encourage others to be responsible," Tabuada said.
The municipalities with high rabies cases included Igbaras with 12; Oton and Sta. Barbara with six each; Cabatuan, five; Calinog, Dueñas, and Alimodian with four each; Miagao, Leon, San Miguel, Ajuy, and San Enrique with three cases each.
"As per our discussion with the municipal agriculturist and livestock technician of Igbaras, they have already addressed it and we have seen that there are no additional cases in the laboratory," the provincial veterinarian said.
Iloilo Provincial Health Officer Dr. Maria Socorro Quiñon said it was "very alarming" that the province has recorded five human deaths; two are from the municipality of Balasan and the rest are from Lambunao, Cabatuan, and Estancia.
Supposedly no one should die due to rabies since animal bite treatment centers are already available in district hospitals and health centers where vaccines are readily available, she added.
Meantime, Tabuada said they projected to procure more or less 21,000 vials of rabies vaccines to be delivered tentatively this December or early next January for next year's vaccination targeting 210,000 dog population.
The provincial veterinary office also lobbied for the local government units to focus on training their barangay vaccinators since the provincial government has already increased its vaccine allocation from 35 percent to 70 percent coverage.
"They identify their barangay vaccinators, request for training and pre-exposure prophylaxis. Once the vaccines arrive, we are targeting to vaccinate from January to March targeting the 70 percent coverage within that period," Tabuada said.
This year the province procured more or less 11,000 vials equivalent to 110,000 dogs.
As of date the vaccinated dog already reached 152, 959, which is already 49.73 percent of the 307, 578 dog population in the province.
"There are towns that also procured their own vaccines that is why we have exceeded the 35 percent target," he said. (PNA)