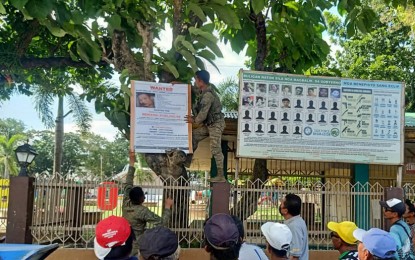 BACOLOD CITY – The reward money for the arrest of New People's Army (NPA) hitman Roger Fabillar, one of the suspects in the killing of a village chief and two other persons in Calatrava, Negros Occidental last month, has been raised to PHP500,000.
The higher bounty, which was announced by the Philippine Army's 79th Infantry Battalion (IB) on Thursday afternoon, will be given to anyone who can provide vital information leading to the arrest of the 31-year-old Fabillar, also known as "Arnel Tapang" and "Jhong".
The initial cash reward was set at PHP100,000 but it was raised to PHP300,000 last week to PHP500,000 at present.
Lt. Col. J-jay Javines, commanding officer of 79IB, said the reward money would come from the local government unit and stakeholders supporting the anti-insurgency campaign.
"I encourage everyone to continuously support our campaign against the terrorist group. Your information and cooperation are vital to us," he added.
On Wednesday, troops of the 79IB installed "wanted" posters with the photograph and personal information of Fabillar in various barangays of Calatrava and neighboring Toboso town.
Fabillar is assigned to carry out special operations for the remnants of the dismantled NPA Northern Negros Front, Javines had earlier said.
On September 10, soldiers also airdropped "wanted" leaflets in the remote villages of Calatrava town to seek the community's help for Fabillar's immediate arrest.
In August alone, Fabillar's group was alleged to have killed three locals, including village chief Benjamin Javoc of Barangay Lalong, who was gunned down outside his residence on August 26; Renato Estrebillo on August 12; and Rodel Nobleza on August 7, both in Barangay Marcelo.
The Communist Party of the Philippines with its armed wing, the NPA, is listed as a terrorist organization by the United States, the European Union, the United Kingdom, Australia, Canada, New Zealand, and the Philippines.
The National Democratic Front has also been formally designated as a terrorist organization by the Anti-Terrorism Council on June 23, 2021, citing it as "an integral and inseparable part" of the CPP-NPA created in April 1973. (PNA)