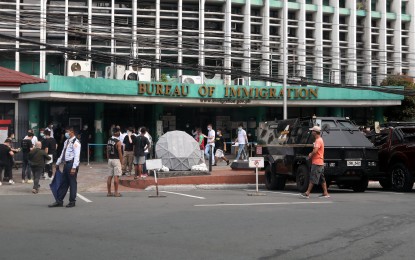 MANILA – Department of Justice Secretary Jesus Crispin Remulla has directed Bureau of Immigration (BI) Commissioner Norman Tansingco to eliminate corruption and underscored the importance of the agency in providing passengers a good first impression upon arrival.
Mico Clavano, DOJ spokesperson, said Remulla met Tansingco for the first time on Thursday.
Remulla tasked Tansingco to always "protect the sovereignty. That is, to make a priority protecting the credibility and forward-looking attitude of the new administration -- free from any controversy and issues," Clavano told reporters on Friday.
The DOJ chief said the BI should also "create a new legacy founded on effective and efficient service."
"The Secretary reminded Commissioner Tansingco that the Bureau of Immigration is the first government contact upon entering the country. Thus, it is important to always have the best foot forward," Clavano said.
Remulla tasked the BI to "do away with evil practices that have hounded the bureau with much issues and controversies" and "assured support for all programs to curb corruption and red tape."
The BI has always figured in controversies, including preying on inbound and outbound tourists with problematic documents in exchange for cash. (PNA)