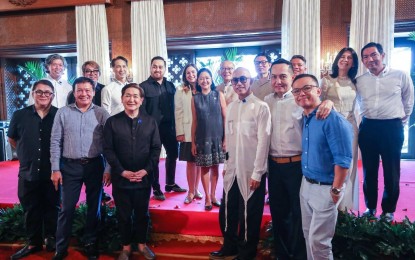 MANILA – First Lady Liza Araneta-Marcos has hosted a luncheon for Filipino designers at Malacañan Palace in Manila.
The luncheon happened Wednesday at Malacañan Palace's Rizal Hall, based on a short video clip uploaded on Araneta-Marcos' official Facebook page on Thursday.
"Thank you for coming… You guys are the best and the brightest, and you want to help Philippine fashion," she told the Filipino designers during the luncheon.
Attendees include designers Mark Bumgarner, Albert Andrada, Francis Libiran, Philip Rodriguez, Puey Quiñones, and Avel Bacudio.
The multi-awarded Simeona F. Chanyungco Lahing Kayumanggi Mananayaw ng Marikina Inc. performed traditional dance to entertain the fashion designers.
Rodriguez and Libiran, in separate Facebook posts, shared that they were also able to tour the Malacañang Museum.
"What a great honor to be invited to [Malacañan] Palace by First Lady Liza Araneta-Marcos together with fellow fashion designers. Hoping to help the First Lady on her projects. It's been years since Filipino fashion designers were invited to brainstorm with the First Lady. Thank you, Madame Marcos," Libiran said.
Meet with outstanding Pinoys
Also on Wednesday, the First Lady met with the outstanding Filipinos named by the Metrobank Foundation.
The meeting came nearly a week after President Ferdinand "Bongbong" Marcos Jr. lauded the 10 recipients of the 2022 Metrobank Foundation Outstanding Filipino Award for rendering service above and beyond their call of duty.
During the awarding rites held at Malacañan Palace on Sept. 9, the President said the awardees are the "living embodiment" of the phrase "beyond excellence."
The awardees were teachers Junmerth Jorta, Mark Nolan Confesor, and Leonila Dans; soldiers Technical Sgt. Joel Tuganan, Col. Maria Victoria Juan, and Col. Stephen Cabanlet; and police officers Police Executive Master Sgt. Rogelio Rodriguez Jr., Police Capt. Rosalino Panlaqui, and Police Col. Lambert Suerte.
Luncheon with ex-Palace workers
Araneta-Marcos also hosted a luncheon in honor of former Palace employees.
The luncheon was held at the Palace's Heroes Hall, based on the photos uploaded on her Facebook page.
The former Palace personnel also had the chance to take photos with the First Lady. (PNA)