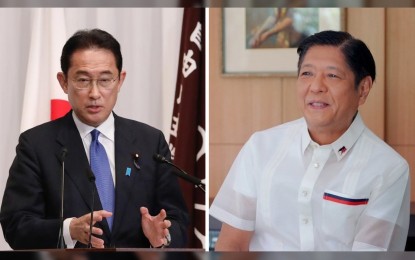 MANILA – A meeting with Japanese Prime Minister Fumio Kishida is one of the expected bilaterals with President Ferdinand Marcos Jr. on the sidelines of the United Nations General Assembly (UNGA) next week, Philippine Ambassador to the United States Jose Manuel Romualdez said Friday.
Kishida was among the first world leaders to interact with Marcos after he won.
In a 15-minute phone call last May 20, the Japanese leader sought Marcos' support for "the realization of a free and open Indo-Pacific."
Kishida promised to continue Tokyo's cooperation with Manila on the economic front such as infrastructure development, including railways and Subic Bay development.
Marcos, who will be in New York from September 18 to 24, is set to deliver the Philippine statement at the 77th UNGA in New York on September 20.
There is no confirmation yet, however, when and what specific time the meeting with Kishida would take place.
Romualdez said other meetings in New York would include bilaterals with Malaysian Prime Minister Ismail Sabri Yaakob, European Union chief Ursula von der Leyen, and two other world leaders.
"He probably has at least six to eight meetings with heads of state. There's also been a request for meetings with other heads of state from Latin America and African states so we're still waiting for word on that one," Romualdez said in a news channel interview.
"Again, like I said, there's a lot of moving parts in these meetings in the UN. There are over a hundred who want to meet each other," he added.
Uncertain Biden meeting
The envoy added that Marcos would see United States President Joe Biden in person when the latter hosts a reception for all the heads of state present in New York, but a one-on-one meeting is "uncertain".
"Both sides want to do it, it's, again, just a matter of schedule," he said. "[D]efinitely, they will be meeting there. But of course, we are looking at an opportunity for them to sit down and have a longer discussion on our relationship."
Besides his UNGA speech, Marcos will attend the Philippine Economic Briefing to outline the administration's interest in expanding and strengthening Philippine-US trade and investment relations.
On Friday, Foreign Affairs Secretary Enrique Manalo and Secretary of State Antony Blinken had a telephone conversation.
Both sides reaffirmed their commitments to strengthen relations and discussed "shared alliance priorities, both in the Indo-Pacific and around the world." (PNA)