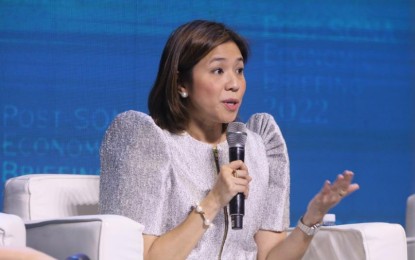 MANILA – The Department of Budget and Management (DBM) has pledged to put a premium on transparency and innovation in crafting the new national action plan for open government partnerships.
The commitment was made during the gathering of members of the Philippines' Open Government Partnership (PH-OGP) for the hybrid Third Quarter Steering committee meeting on Sept. 15.
According to the DBM's report on Saturday, Budget Secretary Amenah Pangandaman guaranteed that the sixth PH-OGP National Action Plan would contain more ambitious commitments that mirror the government's eagerness to better serve the Filipino people.
Pangandaman, chairperson and secretariat of the PH-OGP steering committee, said the action plan would center on transparency and innovation "as a response to the current realities of society."
"I would like to take this opportunity to affirm and reassure everyone that under my leadership, we will continue to co-create and usher innovations that will improve public service delivery; spearhead holistic programs aligned with the priorities of this Administration meant to address public concerns; and, most importantly, foster a more energized civic space our citizens can freely and constructively influence and inform the policies directly affecting them," she said.
Pangandaman reaffirmed the country's commitment to open government partnership, ensuring the continued efforts to shepherd open governance reforms, strengthen civil society collaboration, and introduce innovations towards a "transparent, accountable, inclusive, and responsive governance."
This is the first time the country will be having its four-year action plan, instead of the two-year cycle, that will be delivered from 2023 to 2027.
The OGP, co-founded by the Philippines in 2011, is a multilateral organization of reformers from government, civil society networks, businesses, and non-profits reflective of the values of access to information, public accountability, citizen participation, and leveraging technology and innovation to strengthen governance.
The PH-OGP steering committee is composed of government and civil society representatives whose role is to guide the ongoing development and direction of the partnership, maintaining the highest standards and ensuring its long-term sustainability.
For the non-government sector, the Mindanao Mindanao Coalition of Development NGO Networks (MINCODE) co-chairs the steering panel.
The PH-OGP has served as the main consultation platform of the Participatory Governance Cluster (PGC) of the Cabinet and amplified the Citizen Participatory Audit (CPA) Program of the Commission on Audit.
It is also one of the prime movers and advocates of the Freedom of Information (FOI) program.
It also leads the Dagyaw Town Hall Sessions, which offer the general public opportunities for direct interfacing with government officials who provide on-the-spot resolution and attention to various concerns and issues.
The OGP has also helped the Philippines be recognized by other countries as a key open government reformer.
The Philippines has gained international recognition for its initiatives under the 5th PH-OGP National Action Plan, which includes the Basic Education Inputs by one of its commitment holders, the Department of Education.
The DBM has also put the country in the global rank for budget transparency through the Open Budget Survey which evaluates budget transparency based on the comprehensiveness and public availability in terms of timeliness of release of key budget documents. (PNA)