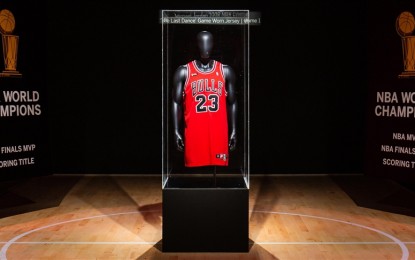 ANKARA (AA) – Former Chicago Bulls player Michael Jordan's iconic 1998 NBA Finals Game 1 jersey sold for a record price of USD10.1 million, auction owner Sotheby's announced on Twitter on Thursday.
The shirt set records for the most valuable basketball jersey and any game-worn sports memorabilia, passing Diego Maradona's "Hand of God" jersey, which was sold for USD9.28 million in May by the same company.
The jersey was from Jordan's final season with the Bulls, also known as "The Last Dance" season when the team bagged its sixth NBA title in the 1997–98 season.
Jordan won six NBA titles in 1991, 1992, 1993, 1996, 1997, and 1998 with the Bulls.
He was also a five-time regular season and six-time Finals Most Valuable Player and 14-time NBA All-Star.
Jordan retired in 2003. (Anadolu)