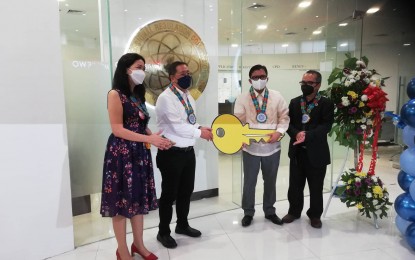 SAN JOSE DE BUENAVISTA, Antique – The Professional Regulation Commission (PRC) has opened its first offsite branch in Antique province for more accessible services and convenience to the locals.
PRC Commissioner Erwin Enad, who came for the turnover and inauguration ceremonies of the new PRC offsite branch at Robinsons Place Antique in San Jose de Buenavista, said during the program on Friday they are "bringing the services of the government closer to the people."
"PRC wants to widen its clients' reach nationwide," Enad said.
PRC regional head Romel Balisang said the branch would render major services such as application for licensure examination and professional license or registration, renewal of their licenses, and certification or authentication of their licenses whenever they apply for work or promotion.
"There is no more need for Antiqueños to go to Iloilo City because they could already be catered by the PRC here in Antique," he said.
Before the opening of the site, San Jose de Buenavista town had to facilitate the holding of "PRC on the Road" to bring the mobile services of the government agency to the province.
"I am glad that there is now a permanent PRC branch in San Jose de Buenavista so Antiqueño professionals could avail of their services anytime," Mayor Elmer Untaran said.
The PRC is located at the Lingkod Bayan or a one-stop shop of government services made available by the mall management for free.
Robinsons Western Visayas and Mindanao Operations Director Joseph Sian said they hoped to invite other government agencies to open up branches in their mall.
He said the Department of Foreign Affairs would soon open a branch at the Robinsons Place Antique while the Home Development Mutual Fund (Pag-IBIG) would occupy a bigger space for its growing clients inside the mall. (PNA)