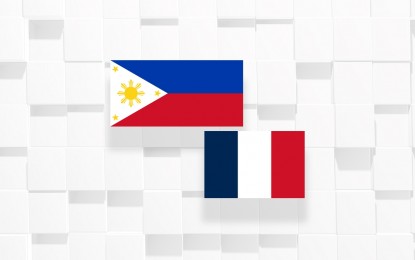 MANILA – Increased exchanges on energy, food security, and defense between France and the Philippines are seen following a phone call between Presidents Ferdinand Marcos Jr. and Emmanuel Macron on Friday.
"This year marking the 75th anniversary of diplomatic relations between the two countries, the two Heads of State discussed strengthening bilateral relations. They agreed to continue deepening trade in the field of low-carbon energy, food security, defense and human trade," the Elysee Palace said in a statement uploaded on its official website.
The French Embassy in Manila on Saturday said Macron told Marcos about France's thrust in the Indo-Pacific region and its commitment to international maritime law.
The French leader presented the International Blue Carbon Coalition, a global program to mitigate climate change through the conservation and restoration of coastal and marine ecosystems.
He also urged the Philippines to join the High Ambition Coalition for Nature and People, which aims to protect 30 percent of marine and terrestrial territories by 2030.
Paris' Indo-Pacific strategy seeks to preserve the rule of law and freedom of navigation in the region to promote economic development that preserves the ecosystems and the planet.
On food security, Macron cited the actions undertaken within the framework of the Food and Agriculture Resilience Mission (FARM), an initiative he launched in March 2022 to address the food crisis caused by the war in Ukraine.
The telephone call is expected to give the necessary impetus to the strengthening of France-Philippines relations.
In a separate statement, the Presidential News Desk (PND) here said both leaders exchanged views on regional and international developments, and look forward to meeting each other in person soon.
"Marcos commended Macron for his leadership role and diplomatic efforts to promote peace and security in Europe," it said, adding that Marcos "deeply appreciated" Macron for congratulating him on his May 9, 2022 presidential election victory.
Recently, French Ambassador Michele Boccoz said ministerial visits were scheduled in the coming months.
Diplomatic relations between France and the Philippines were first established in 1947 when both countries signed the Treaty of Amity in Paris.
Following the historic state visit of former French president François Hollande to the Philippines in 2015, the two nations' relations became more centered on a commitment to ensuring a free and open Indo-Pacific area and upholding international law; pursuing joint action to fight climate change; and promoting cultural exchanges between their people. (PNA)