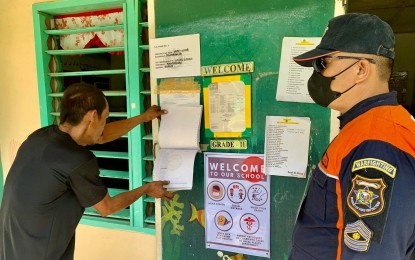 MANILA – All 467 voting precincts opened on schedule for the Maguindanao plebiscite on Saturday, the Commission on Elections (Comelec) reported.
Comelec Chair George Garcia said all but one precinct opened at 7 a.m. for the 818,790 registered voters who decided if the province in the Bangsamoro Autonomous Region in Muslim Mindanao (BARMM) should be split into two -- Maguindano del Norte (12 municipalities) and Maguindanao del Sur (24 municipalities).
"Except for one place in the municipality of Talayan that started at 7:30 a.m., there was no precinct that did not open," he said during a press briefing.
"This means that our preparations were successful because all the election paraphernalia arrived on time, all Electoral Board members were there on time. We thank all Maguindanaoans. You have shown that you are in control of your future," he added.
Comelec-BARMM Director Ray Sumalipao said in an interview that at least 60 percent cast their ballots and no election-related incident was reported until the 3 p.m. closing time.
Acting Comelec spokesperson John Rex Laudiangco said they also have voters' numbers ranging from 50 to 70 percent while some municipalities have 80 to 90 percent participation.
Voters within a 30-meter radius of polling precincts by 3 p.m. were accommodated.
Garcia said the Plebiscite Committee will convene Saturday night to accept Election Returns or Statements of Votes but the canvassing will begin Sunday to allow poll workers to rest.
"The process with the proclamation will not be completed today (Saturday). It may take until tomorrow morning. Until tomorrow afternoon at the latest," he said.
More than 1,500 police personnel were deployed as peacekeepers and poll deputies to the province's 36 towns, according to Col. Roel Sermese, Maguindanao police director.
Sumalipao said as voting centers closed, the military and police secured the ballot boxes that were transported to the Provincial Capitol.
Meanwhile, poll watchdog LENTE (Legal Network for Truthful Elections) Philippines posted on Facebook that based on its observations in voting centers from 6 a.m. to 10 a.m., "most of the Plebiscite Committee arrived on time and without delays, prepared the setup of the polling places and accomplished the preliminary activities. Voting influx peaked at 7:30 a.m. onwards, 30 minutes later than the expected time. A low number of voters were observed waiting for the voting to be opened."
Lito Averia, chair of another poll watchdog, the National Movement for Free Elections, said in a phone interview that they received reports of low turnout in some areas.
He cited the upland town of Upi where the first voter at Borongotan Elementary School arrived at 9:07 a.m. while in Datu Luminog Mangelen Pilot Elementary School in Buluan, polling started on time "but there have been very few voters.
In May 2021, former president Rodrigo Duterte signed Republic Act 11550, or the Charter of the Provinces of Maguindanao del Norte and Maguindanao del Sur.
If the "yes" votes win, Maguindanao del Norte will be made up of Barira, Buldon, Datu Blah Sinsuat, Datu Odin Sinsuat, Kabuntalan, Matanog, Northern Kabuntalan, Parang, North Upi, Sultan Kudarat, Sultan Mastura, and Talitay.
Under Maguindanao del Sur are Ampatuan, Buluan, Datu Abdullah Sangki, Datu Anggal Midtimbang, Datu Hoffer Ampatuan, Datu Montawal, Datu Paglas, Datu Piang, Datu Salibo, Datu Saudi Ampatuan, Datu Unsay, Gen. Salipada K. Pendatun, Guindulungan, Mamasapano, Mangudadatu, Pagalungan, Paglat, Pandag, Rajah Buayan, Shariff Aguak, Shariff Saydona Mustafa, Sultan sa Barongis, Talayan, and South Upi.
The capital towns and seats of government of Maguindanao del Norte and Maguindanao del Sur shall be the municipalities of Datu Odin Sinsuat and Buluan, respectively. (PNA)