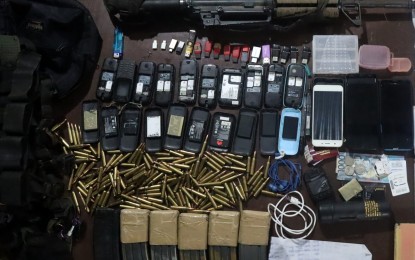 BUTUAN CITY – The Army's 36th Infantry Battalion (36IB) confirmed Sunday the death of a top New People's Army (NPA) rebel in Surigao del Sur.
In a statement, the 36IB identified the rebel as Noel Tumarlas Alacre (alias Megan), the commanding officer of Platoon 2, Guerrilla Front 30, North Eastern Mindanao Regional Committee of the NPA.
His remains were retrieved by the 36IB troopers and the police on Friday afternoon along a riverbank at Sitio Maitom in Barangay Mahanon, Tandag City, Surigao del Sur.
The Surigao del Sur Police Provincial Office said the Tandag police received a call from Carlito Cedron, a village official of Maitom, of the sighting of a corpse wearing a pair of black boots and black sweatshirt bearing the NPA logo.
Among the recovered items from Alacre were one rifle, ammunitions, mobile phones, flash drives, body camera, subversive materials, two packs of acupuncture needles, assorted SIM (Subscriber Identity Module) cards, and eight memory cards.
The day before, four unidentified armed men burned three motorcycles and fired several gunshots along Maitom Road.
Troopers from the detachment at Mahanon, led by Civilian Active Auxiliary and 36IB, pursued the suspects amid heavy rains and strong river current until the discovery of Alacre's body.
"Alacre has 28 standing arrest warrants for numerous criminal charges, including 12 counts of murder, eight counts of attempted murder, three counts of frustrated murder, two counts of slight illegal detention, one count of kidnapping and serious illegal detention, one for arson, and one for abduction," the 36IB said.
Brig. Gen. George Banzon, commander of the 901st Infantry Brigade, said the NPA rebels are nothing but fugitives and lawless arsonist-terrorists with no dignity.
"These terrorists have no regard for human life as they continue to sow twisted propaganda and fool the populace with their failed ideology," Banzon said in another statement.
He commended the police and troops of the 36IB, which was under the command of Lt. Col. Michael Rey Reuyan, for their relentless operation to maintain the peace and order situation in Surigao del Sur.
The Communist Party of the Philippines-NPA is listed as a terrorist organization by the United States, the European Union, the United Kingdom, Australia, Canada, New Zealand, and the Philippines.
The National Democratic Front was formally designated as a terrorist organization by the Anti-Terrorism Council on June 23, 2021, citing it as "an integral and inseparable part" of the CPP-NPA created in April 1973. (PNA)