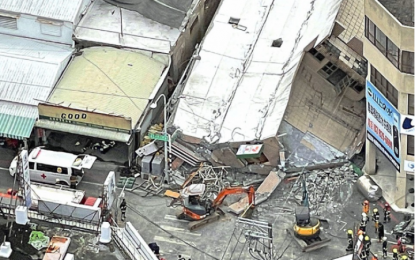 TOKYO – A magnitude-6.8 earthquake struck southeastern Taiwan on Sunday, leaving a trail of destruction on the island's east coast, where two people remain trapped in a collapsed building.
The quake occurred at 2:44 p.m. in Taitung County's Chishang Township at a depth of 7 kilometers, according to the Seismology Center of the Central Weather Bureau.
The US Geological Survey placed the magnitude at 6.9 and the depth at 10 km.
In nearby Hualien County, the National Fire Agency said four people were trapped in a collapsed 7-Eleven convenience store in Yuli Township. While two of them were pulled out of the rubble, rescuers are still searching for the other two.
Two bridges collapsed, and another was damaged in Hualien County, according to local reports.
The quake also damaged a train station in Dongli Township in Hualien and caused a train to derail.
There were no reports of damage at nuclear power plants. (Kyodo)