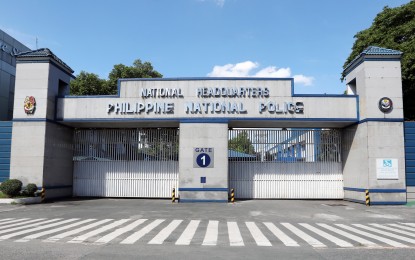 MANILA – The Philippine National Police (PNP) on Monday said it will let the law takes its course on the complaint filed against the force's Internal Affairs Service (IAS) chief Alfegar Triambulo before the Office of the Ombudsman.
"Since nai-file na yung kaso sa ating Inspector General (IG) IAS siguro we will just wait kasi nasa Ombudsman na yun but I intend to talk sa ating IG IAS para malaman natin nang konti ano ba yung kaganapan na nangyari doon that led to the filing of a case against him (Since the case has been filed against our Inspector General IAS, maybe we will just wait because it is now with the Ombudsman. But I intend to talk to our IG IAS so that we can know some details about the events that happened that led to the filing of a case against him)," PNP chief Gen. Rodolfo Azurin Jr. told reporters in a presser after the flag-raising rites in Camp Crame.
Triambulo is facing a complaint for sexual harassment filed by IAS employee Genevieve Lipana represented by her lawyer Ariel Radovan. The case was filed before the Ombudsman on Sept. 5.
Asked if they will conduct a parallel probe that may result in Triambulo's relief from his post, Azurin said there is no need for it "at this time".
"I believe it was already filed, definitely we respect the Ombudsman, but mine is I will talk personally to IG IAS. I think it is the Office of the President who decides because (the President) is the appointing authority," he added.
Sought for comment, Triambulo dismissed the complaint as a demolition job against him.
"This is a demolition job and they are spreading lies but they won't succeed. They went first to the office of the Chief PNP and then to Napolcom (National Police Commission). Their efforts did not bear fruit. Now, it's the Ombudsman. They even used the Chief PNP's office so that their lies against me will eventually reach Malacanang," Triambulo said in a mix of English and Filipino.
The IAS serves as the PNP's institutional watchdog in charge of disciplining, monitoring and investigating, and adjudicating administrative cases of erring PNP personnel. (PNA)