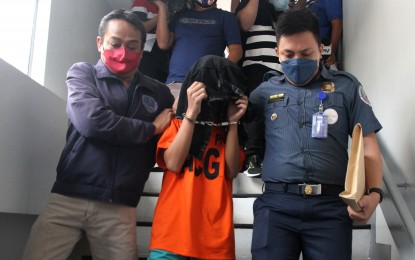 MANILA – Philippine National Police (PNP) chief Gen. Rodolfo Azurin Jr. on Monday said he intends to meet with Vice President Sara Duterte to explain their approach against lawless elements.
Azurin's remarks came after Duterte said the government should show "no mercy" to criminals and terrorists as it aims to enhance coordination and cooperation on national security.
"Alam mo yung no mercy to criminals maraming konteksto kasi yan. Puwede naman na no mercy to criminals, hulihin natin, ipakulong natin. That's part of the no mercy to criminals ((You know, the 'no mercy to criminals' remarks have different contexts. It can be no mercy to criminals -- we arrest them and jail them. That's part of no mercy to criminals)," Azurin told reporters in a press briefing in Camp Crame.
"Definitely I have plans to see our Vice President. Whether she is the OIC (officer-in-charge) or not. Kasi naging busy lamang po ako sa nagdaang mga araw (I've been just busy the past few days) but that's one of my bucket list, I have to see the VP," he added.
Azurin said the PNP follows the basic rule of law.
"Hindi naman ibig sabihin ay we go to the extent of yung mga insinuations nung iba. So sabi ko nga is those are subject to interpretations kaya ang sa atin very basic lang tayo, rule of law (It does not mean that we go to the extent of the insinuations mentioned by others. As I have said, the statement [of VP Sara] is subject to interpretations, that is why for us we have the basic rule of law)," he stressed.
Azurin said the PNP does not need to scare criminals and that the police force values life and its position is in line with the guidance of President Ferdinand Marcos Jr. which is to ensure the safety of the public.
The PNP chief, meanwhile, thanked the Senate for appreciating its actions to resolve kidnapping cases involving Philippine Offshore Gaming Operators (POGOs).
Azurin said the PNP Anti-Kidnapping Group has solved nine of the 17 POGO-related kidnapping cases reported since January this year.
Out of this figure, one case has been marked as cleared while seven other cases remain under investigation.
"The PNP is also grateful for the responsiveness of the senators to PNP proposals that will establish an efficient system of monitoring and identification of alien workers in the POGO industry as well as the exercise of visitorial powers by PNP Units to inspect and account for security personnel and systems employed in POGO firms, some of whom have been reported to be active participants in some kidnapping and illegal detention complaints," Azurin said.
To further bolster the police's investigative capacity in POGO-related incidents, Azurin said the police force is seeking to forge a better understanding with concerned government agencies such as the Bureau of Immigration (BI) and Philippine Amusement and Gaming Corporation (Pagcor).
Azurin said the cooperation is in line with operational plans to conduct on-the-spot records verification of foreigners and enforcement of applicable laws and local ordinances that regulate business operations.
"This is why the PNP is suggesting that we want Pagcor to furnish us with the list of approved POGO operators so that our crackdown and search will be easier. We also coordinate with all law enforcement agencies, the BI, NBI (National Bureau of Investigation) as well as with our regional forces. We also asked the communities to give us information for us to be able to easily flush out those who are illegally staying and those who commit crimes here. We cannot let them destroy our President's vision of having a safe and robust economy," Azurin said. (PNA)