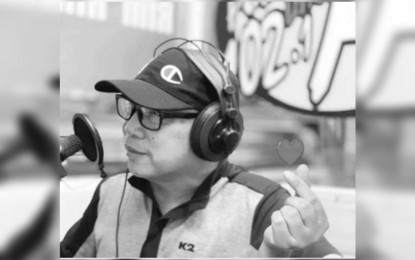 MANILA – The Presidential Task Force on Media Security (PTFoMS) is strongly condemning the killing of Renato Blanco, a radio broadcaster for POWER 102.1 DYRY RFM based in Mabinay town, Negros Oriental province who was stabbed to death at Barangay Himocdongan on Sunday night.
In a statement, the PTFoMS said it sends its deepest condolences to the family and friends of the victim and assured that justice will be served against the perpetrator.
PTFoMS also hailed Philippine National Police (PNP) probers for their swift action on the incident and for immediately arresting the suspect. The PNP is one of the agencies that comprise the Presidential task force.
Initial report from the PNP coursed through Brig. Gen. Roderick Augustus Alba, Chief Media Security Vanguard, and Police Regional Office (PRO) 7 Vanguard, Lt. Col. Maria Aurora L Rayos, revealed that Blanco was killed by a certain Charles Yanoc Amada who stabbed the victim using a 10-inch knife in the "right clavicle area".
Blanco was rushed to a nearby hospital but was pronounced dead on arrival. The suspect is currently detained at the Mabinay Police Station.
Veteran journalist Joel Sy Egco, who served as executive director of PTFoMS from 2016, earlier said the designation of high-ranking PNP officials as Media Security Vanguards was one of the task force's many "proactive" initiatives to ensure the safety of media workers, especially during the elections. As a result, no media worker was harmed in the last national and local elections.
Egco is continually monitoring developments on the safety of journalists in the country in close coordination with Alba and the rest of the Vanguards.
PTFOMS added that while it is still too early to determine the exact motive behind the incident, it will presume the killing to be "work related" as a matter of policy so that the full might of the presidential task force will be brought to bear against the suspect.
The PTFOMS thanked officer-in-charge, Col. Jonathan Pineda and Senior Master Sgt. Algen Daniel of the Negros Oriental Police Provincial Office, for immediately investigating the incident.
Through the efforts of PTFOMS, all Public Information Officers (PIO) of the PNP were officially designated as PTFOMS' Focal Persons last January, with Alba as chief vanguard.
Dubbed as Media Security Vanguards, they serve as the "first line of defense" of media workers all over the country as they are the first to receive and respond to all threats leveled against any media practitioner. They are also tasked to coordinate with PTFoMS Special Agents in expediting the investigation of cases of violence committed against media workers.
PTFOMS was created in 2016 with a devoted mandate to protect the life, liberty and security of media workers in the country, a first in the world.
In the recent 2021-2022 "World Trends in Freedom of Expression and Media Development Global Report" released by the United Nations Educational, Scientific and Cultural Organization (UNESCO), it highlighted the Philippines as among a very few countries that have undertaken "good practices and positive measures"
in the safety of media workers, including the establishment "a special task force for the safety of journalists," now being emulated by other countries in the world. (PNA)