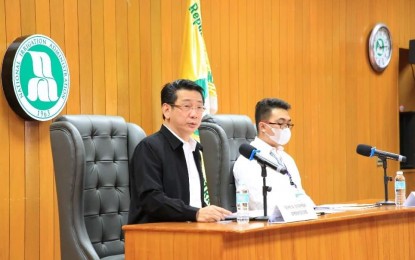 MANILA – The National Irrigation Administration (NIA) on Monday said it has filed criminal and administrative charges against its two officials for alleged "gross inexcusable negligence".
In a press briefing, NIA Administrator Benny Antiporda said the "negligence, unprofessionalism, and incompetence" of acting manager of Legal Services Atty. Lloyd Cudal and handling lawyer Atty. Mary Annabelle Cruz-Domingo caused the agency to lose a case against Green Asia Construction Development Corporation (GACDC) before the Construction Industry Arbitration Commission (CIAC). The NIA was also ordered to pay PHP205,958,119.
"This is the Green Asia Case, wherein NIA just lost PHP205 million, natalo po tayo dahil lang sa technicality (we lost due to simple technicality)," Antiporda said.
In a statement, the NIA said this loss could have been prevented if the Cudal and Cruz-Domingo had duly fulfilled their duties.
"Such case could have been avoided if they performed their tasks and duties with devotion, utmost diligence, and good faith. The said damage is unduly suffered by the government and, ultimately, by the taxpayers – an injustice to the Filipino people," the NIA statement read.
These charges were filed for their alleged "gross ignorance of the law," including the supposed "insistent refusal" of Cudal to either take the case or testify as a witness.
"Worse, Atty. Cudal advised the filing of a Motion for Reconsideration, which was denied for being a prohibited pleading, leading to the expiration of the period to file an appeal," the NIA said.
The NIA added that Cruz-Domingo has likewise used the "wrong remedy of filing petition for certiorari instead of a petition for review."
"They miserably failed to perform and discharge their duties with the highest degree of excellence, professionalism, intelligence, and skill. They caused to lose the right of NIA to appeal because of their sheer inefficiency, incompetence and lack of devotion and dedication to perform their duties," the NIA statement read.
The Green Asia case pertains to the long-delayed 22-kilometer project of irrigation canals and installations of steel gates from Nueva Ecija to Bulacan since 2016.
The contract was then terminated in 2020, with the Construction Industry Arbitration Commission ruling in favor of Green Asia last February.
Meanwhile, Antiporda said NIA seeks to strengthen Public-Private Partnership (PPP) with 50 potential irrigation projects nationwide.
Majority of these are big-ticket multipurpose projects with hydropower component with potentials on floating solar power farm and Small River Irrigation Projects (SRIPs) with reservoirs that can be utilized for floating solar power farm and/or mini-hydroelectric power plant.
At present, he said NIA already received a pledge of investment amounting to more than PHP1 trillion through Letters of Intent from different investors. (PNA)