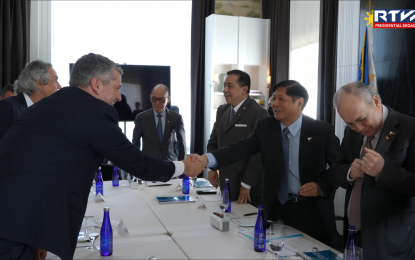 MANILA – President Ferdinand "Bongbong" Marcos Jr. on Tuesday (Manila time) held a series of dialogues with around three United States (US)-based companies in New York City.
A short video clip of Marcos' separate meetings with the executives of NUscale Power, WasteFuel, and Boeing was uploaded on the official Facebook page of state-run Radio Television Malacañang (RTVM).
"Before his activities officially commence at the United Nations (UN) Headquarters, President Ferdinand R. Marcos Jr. holds a series of meetings with American private companies in New York, United States of America (USA) on September 19, 2022," the RTVM said in a Facebook post.
Marcos, the RTVM said, first met with the top managers of NuScale Power, an American energy firm that offers advanced nuclear technology.
Founded in 2007, NuScale aims to provide scalable advanced nuclear technology for the production of electricity, heat and clean water to improve the quality of life for people around the world, according to its website www.nuscalepower.com.
After his meeting with NuScale, Marcos had a dialogue with California-based company WasteFuel which produces renewable fuels through proven technologies.
In a bid to address climate emergency and revolutionize mobility, WasteFuel converts municipal and agricultural waste into low-carbon fuels, renewable natural gas and green methanol.
WasteFuel's first project in development for aviation fuel is in the Philippines, partnering with infrastructure developer Prime Infrastructure and NetJets.
The RTVM said Marcos also had a meeting with top officials of Boeing, a leading global aerospace company.
Boeing, being a top US exporter and given its long tradition of aerospace leadership and innovation, has been the premier manufacturer of commercial jetliners for decades.
To date, over 10,000 Boeing-built commercial jetliners are in service worldwide.
Malacañang has yet to release additional details about Marcos' meetings with the three American companies.
During his series of meetings with the top officials of the three US-based firms, Marcos urged them to invest in the Philippines, Press Secretary Trixie Cruz-Angeles said in a Facebook live.
Cruz-Angeles said the business leaders who met with Marcos are "very optimistic" and "very positive" during their talks about their possible investment in the country.
"Maganda naman po ang usapan. In a few days po, makukuha natin 'yung details or 'yung pledges regarding this (There has been a positive dialogue. In a few days, we will get more details or pledges regarding this)," she said.
She said it was "very exciting" to see the positive outcomes of Marcos' meetings with the US investors, especially since his administration looks forward to a "new and transformed" Philippine economy.
"So far, he has proven to be one of the best salesmen and in fact, of late, the best salesman for the Philippines," Cruz-Angeles said.
"We're seeking to transform the economy. So, the President has imbued new energy at siya po ang nanghihikayat, nakukuha ng mga panibagong investors at very exciting po (and he's encouraging more investors [to do business in the country. That's very exciting)," she added.
Also on Tuesday (Manila time), Marcos urged US businesses during the New York Stock Exchange Forum to invest in the Philippines, as they assured them of a robust and resilient Philippine economy.
"For investors, doing business in the Philippines is an opportunity to reap the benefits of a vibrant economy," Marcos said.
Marcos is expected to hold more dialogues with American investors as part of his working visit to the US.
He will also participate in roundtables designed to project the country as a vital and emerging economy and investment destination in Asia. (PNA)