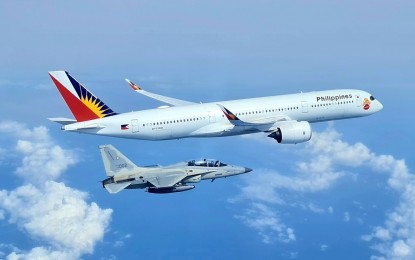 MANILA – The Philippine Air Force (PAF) on Tuesday announced that two of its FA-50PH light combat fighters have escorted and secured President Ferdinand R. Marcos Jr.'s flight up to 200 nautical miles as it departed for New York last Sept. 18.
This is for the Chief Executive's participation to the 77th United Nations General Assembly.
"The fighter jets escorted the presidential flight in the country's eastern front starting over Polilio island all the way up to 200 nautical miles," PAF spokesperson Col. Ma. Consuelo Castillo said in a message to the Philippine News Agency.
The South Korean-made FA-50PH is considered the PAF's premier air combat aircraft and is used extensively for air defense, attack, and other support missions.
"Fighter escorting, more than just a tradition, is an essential standard operating procedure to clear and secure our air space for the arrival and departure of the President of the Republic and other visiting heads of state," she added.
Castillo said this procedure is similarly practiced in other countries for added security of their presidential flights.
She added that the FA-50PH escort mission lasted only for a few minutes.
After the escort mission, the aircraft conducted a regular maritime patrol to secure the country from unauthorized intrusions within the Philippine Air Defense Identification Zone (PADIZ).
"Maritime patrols are also done by our fighter jets to monitor developments and illegal activities within our Exclusive Economic Zone," the PAF spokesperson said.
The FA-50PHs had their baptism of fire in the Marawi City campaign where it was heavily used for close-air support mission roles along with the venerable OV-10 "Bronco" turbo-prop attack aircraft, SF-260 light bombers, and various attack helicopters of the PAF.
The aircraft has a top speed of Mach 1.5 or one and a half times the speed of sound and is capable of being fitted with air-to-air missiles, including the AIM-9 "Sidewinder" air-to-air and heat-seeking missiles aside from light automatic cannons and bombs.
A total of 12 FA-50s were acquired from Korea Aerospace Industries for PHP18. 9 billion.
The deliveries commenced in November 2015 and were completed in May 2017.
First escort mission
In a separate interview, Castillo said this is the first time the PAF's FA-50PH aircraft escorted the Chief Executive's flights outside the country.
"This is the first time that our FA-50s were able to escort out the President on a foreign trip. During the earlier presidential trips, our fighter jets had been committed for priority patrol missions elsewhere that needed its urgent presence, and considering that we have limited aircraft, our government's priority is for our aircraft to be utilized for urgent and critical missions," she added.
Castillo said this is why shortly after Sunday's escort mission, the PAF tasked the two FA-50PHs to do maritime patrols.
She also said it would be better for the country if there will be more fighter aircraft available to ensure maximum coverage of Philippine territories.
Asked if the PAF will escort the President's flight upon arrival in Philippine territory, Castillo said the PAF is looking at that possibility.
"As to the fighter escort mission for the return flight of the President, the PAF would wish to make that possible, even just to jibe it again with a maritime patrol mission," she added. (PNA)