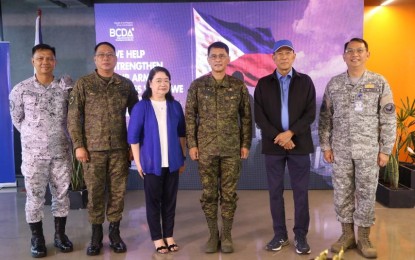 MANILA – Armed Forces of the Philippines (AFP) chief-of-staff Lt. Gen. Bartolome Vicente Bacarro thanked the Bases Conversion and Development Authority (BCDA) for its vital support to the ongoing military modernization program.
He issued this statement in a forum held at New Clark City, Tarlac on Monday.
Bacarro, in a statement released to reporters on Tuesday, said the BCDA has contributed PHP25.01-billion to the AFP Modernization Program from 2017 to 2022 alone.
"As such, on behalf of the men and women of the AFP, I express my wholehearted gratitude to the management of the BCDA for your invaluable contribution to building a stronger, more credible, and more capable Armed Forces," he added.
Bacarro was the guest of honor in the forum on the role of BCDA in the AFP Modernization Program. He was welcomed by BCDA chairman and former Secretary of National Defense Delfin Lorenzana and top BCDA executives including its president and chief executive officer, Aileen Anunciacion Zosa.
The participants were briefed on the BCDA mandate, plans and programs and projects for the New Clark City.
The BCDA also reported that as of May 2022 it has remitted to the Bureau of Treasury a total of PHP80.46 billion since its creation in 1992.
"As the CSAFP (Chief-of-Staff, AFP) I reaffirm the AFP's commitment to sustain the engagement between our institutions to further strengthen and enrich our partnership for more productive collaborations in the future," Bacarro said. (PNA)