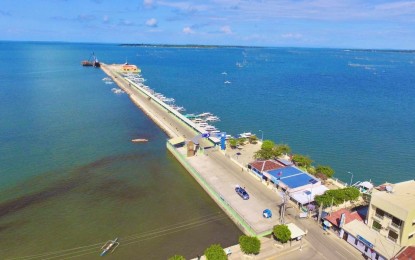 MANILA – The authority to construct and develop ports in the country has been delegated to the local government units (LGUs), the Department of Budget and Management (DBM) said on Tuesday.
The statement was issued, after the Department of Transportation (DOTr) bared that the DBM disapproved its request for PHP800 million in funding for the construction and upgrade of at least 36 ports and docks in 2023.
Citing Republic Act (RA) 9170 or the Local Government Code of 1991, the DBM said the DOTr's request was rejected, since the LGUs are in charge of the port construction and modernization.
"Per Section 17(B) item 8 of the Local Government Code of the Philippines, and pursuant to the Supreme Court Ruling on the Mandanas-Garcia Case, the construction of local ports has already been devolved to the local government units," the Budget department said in a press statement.
The DBM was referring to the specific provision which contains the basic services and facilities related to transportation and ports that have been devolved to the LGUs.
Based on RA 9170, LGUs are given the mandate to provide basic services to "infrastructure facilities including traffic signals and road signs and similar facilities; adequate transportation facilities; fish ports; and infrastructure facilities intended primarily to service the needs of the residents of the municipality including, but not limited to fish ports, among others," the DBM said.
The DBM also noted that the Devolution Transition Plans submitted by the DOTr, the Department of Agriculture, and the Department of Public Works and Highways include programs, activities, and projects that have been "assigned and for devolution to the LGUs."
These include the development of locally-funded social and tourism ports; the operation of municipal fish ports in the city or for projects that cut across two or more villages; and the construction or improvement of access roads leading to airports or seaports, the DBM said.
The DBM has earmarked around PHP962.2 billion for the LGUs nationwide in 2023 to boost their capabilities and enable them to fast-track the delivery of their basic services.
The 2023 budget plan for LGUs represents around 18.3 percent of the proposed PHP5.268-trillion national budget for next year.
Earlier, Local Government Secretary Benhur Abalos Jr. also called on the 430 beneficiary LGUs to utilize the PHP1.25-billion support fund to help them carry out devolved functions and services, particularly on projects that are most beneficial and responsive to their constituents. (PNA)