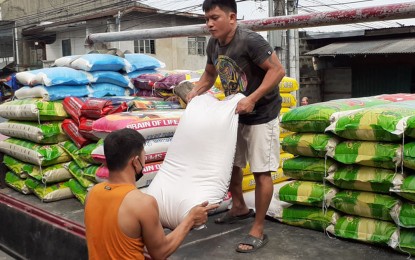 MANILA – Following President Ferdinand "Bongbong" Marcos Jr.'s plan to give government workers rice allowances, a party-list lawmaker on Tuesday called on the House leadership to immediately start deliberations on a proposed measure that would also provide the same benefit to workers in the private sector.
"Huwag na natin hintayin na sabihin ng mga kababayan natin na 'sana all.' Talakayin po natin ang panukalang naglalayong itatag ang mga partnership sa pagitan ng private sector at mga magsasaka para sa rice allowance ng mga empleyado nila (Let us not wait for our countrymen to say 'I hope everyone gets that.' Let's deliberate this measure that aims to establish partnerships between the private sector and the farmers for the rice allowance of their employees)," AGRI Party-list Rep. Wilbert Lee said.
Lee had earlier filed House Bill 1296, or An Act Promoting Corporative Farming and Providing Incentives for its Effective Implementation, which aims to encourage "corporative farming," a blend of the meanings of corporate and cooperative farming.
The bill seeks to establish partnerships between farming organizations and communities with domestic corporations. Under such an agreement, farming organizations would supply labor, expertise, and/or their landholdings, while private companies provide the necessary capital and guarantee the purchase of the harvest.
Under the bill, the corporations/partnerships that engage in corporative farming agreements shall be required to provide a minimum of 600 kilograms of rice/corn per employee per year or 50 kg. per employee per month. Any excess produce under the corporative farming agreement would be sold to the National Food Authority (NFA) at prevailing market prices.
"Corporative farming allows us to implement a measure that benefits not only private sector employees, but also our farmers. The rice allowance will help employees cope with the rising cost of goods, while farmers are given a sure market and guarantees that their crops will be bought at fair value," Lee said.
The aim of the bill is similar to President Marcos' plan to give government workers rice allowances to reduce hunger and help domestic rice producers.
Marcos said the rice would be bought by the government at farm-gate prices so that government workers would not have to buy them at market prices. He also said the private sector can also help farmers by providing rice allowances to their workers.
In view of this, the party-list solon expressed hope that Congress would prioritize the said bill.
"This measure shows us that there is a solution to the rising cost of goods through collaboration among the public and private sectors and our farmers. I hope that we can pass this bill soon so that we can help not just government employees, but all employees," Lee said.
To encourage corporative farming, HB 1296 provides that firms entering into such agreements shall be entitled to tax incentives covering all aspects of the operation related to corporative farming activities.
These include exemption from the payment of customs duties on the importation of all types of agricultural inputs, particularly seeds, fertilizers, agricultural machinery, and other agricultural implements; exemption from the value-added tax on the importation of agricultural; exemption from the payment of capital gain tax for a person either natural or juridical, who sells and or transfers idle agricultural land to three corporations or partnerships engaged in corporative farming; and tax incentives, including income tax holiday. (PNA)