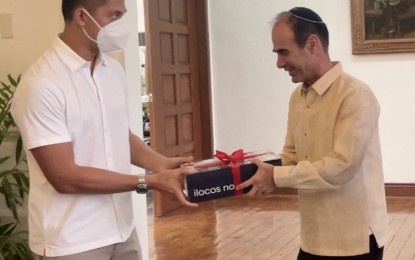 LAOAG CITY – The Israel government has vowed to assist Ilocos farmers to boost their productivity by sharing their innovative solutions to modern agriculture.
In his first visit to Ilocos Norte province, Israeli Ambassador to the Philippines Ilan Fluss said one of the big areas they are looking at for stronger support and longer cooperation is battling emerging diseases in mangoes and other promising crops in the region by tapping mango experts from Israel.
"We have lots of expertise in the approach. See what we can offer if I can identify good experts that can come and help in identifying the disease and solution which is not always on more and more pesticides but try different approaches to look into it and come back to the governor," he said.
As a junior diplomat to the Philippines back in the 90s, Fluss recalled that the Israel government had introduced a training program in Guimaras then to help in exporting its mangoes to Japan.
Since 2012, the mango industry in the province has been suffering from low yield due to erratic weather patterns and disease infestation.
Ricardo Tolentino, president of the Mango Growers Association in Ilocos Norte, said a lot of mango growers continue to suffer losses due to the El Niño or the prolonged dry spell and the oversupply from other mango-producing provinces that drove prices down.
As a high-value commercial crop in the province, the Ilocos Norte government has been helping farmers rehabilitate their fruit-bearing trees and apply organic conditioners to give time for the soil to "heal."
Grafted mango seedlings, organic fertilizers, and fruit-fly attractants are, likewise, being distributed to farmers to help boost the industry.
Based on the quarterly bulletin report of the Philippine Statistics Authority from April to June 2022, the Philippines' mango production decreased by 3.8 percent, from 556,820 metric tons in the same quarter of 2021 to 535,430 metric tons this period.
Of the total production, the Ilocos Region, which contributed 22.5 percent to the total production, remained the top mango producer during the second quarter with 120.220 metric tons. The region was followed by Zamboanga Peninsula and Western Visayas, with 9.9 percent and 9.6 percent, respectively. (PNA)