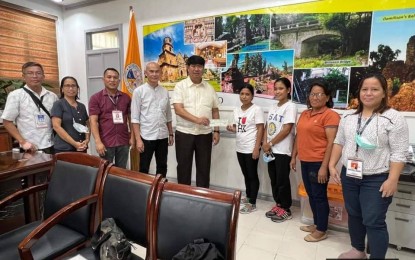 ILOILO CITY – Twenty barangays considered conflict-vulnerable areas in Iloilo were provided with a PHP6-million grant while 151 former rebels received a total of PHP3.02 million for their chosen livelihood projects from 2021 until Sept. 19, 2022.
The provision of livelihood support to conflict-affected communities and former rebels is part of the commitment of the Department of Social Welfare and Development in Western Visayas (DSWD 6) under the whole of nation approach as mandated under Executive Order number 70 to end local armed conflict.
Data from the Provincial Monitoring and Evaluation Office of the Sustainable Livelihood Program (SLP) showed that in 2021, there were 13 community associations from 13 barangays with a total of 422 members from Leon, Miagao, and Tubungan towns that were served.
In an interview on Tuesday, Anthony Laruan, Iloilo provincial coordinator for SLP of the DSWD field office said an association was formed with the help of local government units (LGUs) and barangays to manage their chosen projects.
Each barangay association received a livelihood grant of PHP300,000.
This 2022, the identified beneficiaries were seven barangays from three municipalities in the southern and central portions of Iloilo with a total of 215 members.
"Our target municipalities are Calinog, Lambunao, and Miagao. So far we have already released (assistance) in those municipalities," he said.
The latest to be turned over was the Pudpud Agri-Farm Sustainable Livelihood Association (SLPA) in Miagao on Sept.19 to be used for the purchase of agricultural supplies.
The PHP300,000 check was released through Mayor Richard Garin at the town's municipal hall and received by association president Rachel Sibua.
The grant for five associations in Calinog was released on Sept. 9 and Sept. 12 for one association in Lambunao.
On the other hand, Laruan added that 151 former rebels from Iloilo have also received a total of PHP3.02 million for their chosen livelihood projects.
"The grant is intended for their proposed projects, mostly small scale business like sari-sari store, livestock, and farming, among others. All projects are in collaboration with our local government units, PNP (Philippine National Police), AFP (Armed Forces of the Philippines) and the ELCAC (Western Visayas Regional Task Force to End Local Communist Armed Conflict)," Laruan said.
Each beneficiary is entitled to PHP20,000 which they can use to augment their existing livelihood or start a new business.
He added that they still have a pending of around 20 beneficiaries since the provision of assistance is subject to the availability of funds.
Laruan said when the fund becomes available, they can already release the assistance for the projects. (PNA)