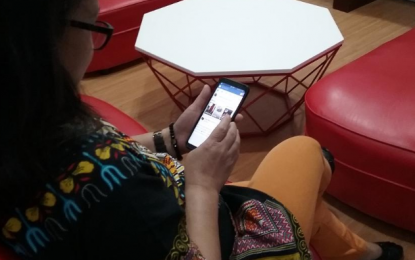 MANILA – Senator Grace Poe is determined to include "spoofing" as a violation under her sponsored Senate Bill No. (SBN) 1310 or the SIM (Subscriber identity module) Card Registration.
Spoofing, as defined in Section 3 of SB 1310, "shall refer to the act of transmitting misleading or inaccurate information about the source of the phone call or text message, with the intent to defraud, cause harm, or wrongfully obtain anything of value."
Spoofing or the altering of the SIM card makes it appear that the message was sent by the registered user.
"The intent of this proposed measure is to strengthen our cybercrime laws," Poe said.
While fine-tuning the measure in the plenary on Monday, Senate Minority Leader Aquilino Pimentel III suggested removing spoofing, saying it is already a crime under other existing laws.
"In my opinion, it can be punishable under the existing laws already," Pimentel said, to which Poe disagreed.
She cited that the National Telecommunications Commission said spoofing is being done "by using a device that alters the sender's number such that it would appear that a message came from another number entity."
"It circumvents the very purpose of registration which is to tie up a name into a number so that criminal activity can be decreased," Poe said, stressing that if spoofing will not be penalized, it would be a detriment to the integrity of the registration system itself.
Senator Pia Cayetano and Majority Leader Joel Villanueva agreed with Poe.
Poe, who chairs the Committee on Public Services, said the spoofing provision was included in the previous bill ratified by both the House of Representatives and the Senate but was vetoed by former president Rodrigo Duterte due to technicalities.
After a few more exchanges, Pimentel agreed to retain spoofing in the measure.
The bill, already approved by the Senate on second reading, seeks to mandate the registration of SIM Cards and curb mobile phone and electronic communication-aided crimes from texts scams and terrorist activities by requiring mobile phone users to present valid government identification and documents for registration.
Refiled in the 19th Congress, the measure was amended to expand its coverage from ordinary SIM cards to newer types of SIMs, such as the eSIM (electronic SIM).
An eSIM is a digital SIM that is embedded in a mobile device and can connect to any operator offering such service.
Minors can register using their parents' or guardians' names under SBN 1310.
Telecommunication companies will be tasked to protect the submitted personal information in a secured database.
Their compliance with security standards shall be audited annually by the Department of Information and Communications Technology.
Also on Monday, the House of Representatives approved its SIM card registration measure, with 250 affirmative votes, six negative votes, and one abstention.
Every public telecommunications entity or authorized seller shall require an end user to accomplish and sign in triplicate a numbered registration form.
The form shall include an attestation that the person appearing before the seller is the same person who accomplished the document and that he or she presented valid identification cards. (PNA)