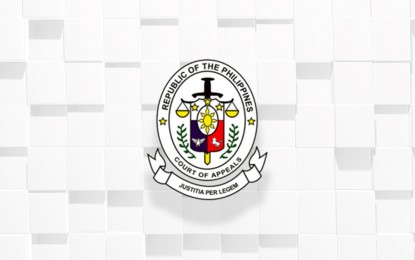 MANILA – The Court of Appeals has affirmed the 2019 conviction of the Makati Regional Trial Court (RTC) of two men found guilty of extorting from fellow Filipino-Chinese whom they even consider as family friends.
Makati RTC Branch 137 had sentenced John Roel Cheng An and Alvin Go Tong to up to seven years imprisonment for robbery (extortion), which the CA upheld on September 15 "after a thorough and careful review of the records."
"This Court is convinced that the prosecution has sufficiently proven beyond reasonable doubt appellants' guilt," the CA ruled.
Separate charges of illegal possession of explosives were dismissed.
Complainants and siblings Bobby Ong Chua Ching and Billyn Ching claimed that the duo extorted PHP400,000 from them in 2006 but did not indicate possible reasons or history of past grudges, except that they were threatened.
The complainants narrated that at around 8 a.m. on Feb. 1, 2006, they received a handwritten letter using a local hotel's stationery and contained in an envelope with a live piece of 9-milllimeter ammunition, threatening the safety of their family.
Later that day, a man who identified himself as "Jun" called them and demanded PHP1 million, prompting the family to seek help from known anti-crime crusader Teresita Ang-See.
Ang-See, in turn, referred them to the Police Anti-Crime and Emergency Response (Pacer) Task Force.
In subsequent phone conversations, the family said they could not afford the money demanded from them, which angered the caller.
A week later, a live grenade was left on the windshield of the family's car parked outside their house, with a note reiterating the demand.
When the demand money was eventually lowered to PHP400,000, they agreed on a drop-off point.
From a hotel in Makati's central business district, the bag containing the money would be thrown over the perimeter fence of an adjacent subdivision.
The plainclothes policemen, however, left the money on the wall instead of throwing it over and waited for the suspects to retrieve it.
The two arrived on a pick-up truck and were apprehended when they got the money.
The victims said Go Tong is a distant acquaintance, the brother of the husband of a family friend and whom they met during a wedding.
The suspects claimed they were at the area because they got curious when they heard a commotion.
They accused the cops of beating them up but the court noted that they did not question their arrest. (PNA)