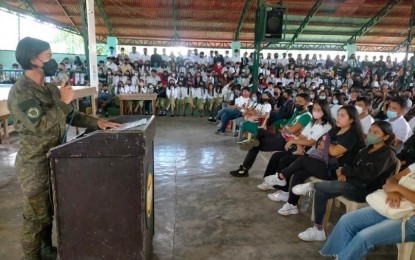 DUMAGUETE CITY – The 62nd Infantry Battalion of the Philippine Army and its partners are relentlessly continuing their activities to empower the youth and get them involved in government efforts against illegal drugs and communist insurgency.
Lt. Col. William Pesase, 62IB commanding officer, told the Philippine News Agency on Tuesday that alongside Philippine National Police (PNP) and other partners, they hold the Youth Empowerment Symposium (YES) for Peace in the different schools in their area of coverage now that Covid-19 restrictions have eased.
Pesase said these activities provide awareness to students against illegal drugs as well as the Communist Party of the Philippines-New People's Army (CPP-NPA) so that the youth may become good leaders and members of their communities.
With the resumption of face-to-face classes, the Army commander said recruitment of the youth to the insurgency movement is also a possibility.
"That is why we need to be pro-active and get ahead of the CPP-NPA to prevent the young ones, who are usually vulnerable, to be indoctrinated with their ideologies," he said in mixed English and Filipino.
Last Sept. 15, a total of 1,015 students from junior and senior high schools, and those taking up Bachelor of Elementary Education, and Bachelor of Secondary Education of the Saint Joseph College of Canlaon (SJCC) in Barangay Linothangan, Canlaon City, Negros Oriental attended the Anti-Illegal Drugs Awareness, Organizational Orientation about youth volunteerism and Insurgency Awareness through the YES for Peace Initiative.
It was a joint program conducted by the 62IB, the Canlaon City Police Station, and Youth for Peace Development Movement Philippines Incorporated (YFPDMPI) – Canlaon City Chapter, in partnership with the SJCC management and staff.
Pesase said they also recently conducted a Youth Leadership Summit in Guihulngan City, Negros Oriental.
He called on parents and school administrators and officials to be wary of people visiting their campuses for activities that may seem harmless.
"Once indoctrinated, it would be difficult to counter the beliefs inculcated in the youth and that is why there has to be sustained and collaborative government efforts to ensure that these young people are not easily swayed to join the underground movement," he said.
The CPP-NPA is listed as a terrorist organization by the United States, European Union, the United Kingdom, Australia, Canada, New Zealand, and the Philippines.
The National Democratic Front has been formally designated as a terrorist organization by the Anti-Terrorism Council on June 23, 2021, citing it as "an integral and inseparable part" of the CPP-NPA created in April 1973. (PNA)