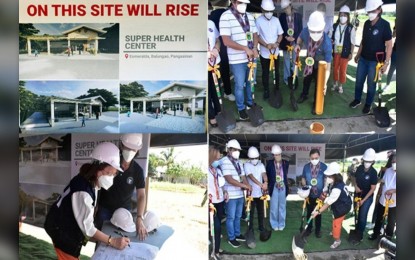 BALUNGAO, Pangasinan – A health facility complete with medical services and equipment will soon rise in this town that will cater to the medical needs of the residents and its neighboring towns.
In a statement on Tuesday, Director Paula Paz Sydiongco, of the Department of Health Center for Health Development Ilocos Region (DOH-CHD-1), said the first phase of the super health center will be funded by the DOH's Health Facility Enhancement Program at PHP6.5 million.
She said the implementation and construction of super health care centers will provide a higher standard of care than a regular rural health center.
"This would also help the secondary and tertiary hospitals as their outpatient services and emergency services will be lessened as the super health care centers will be the ones that will give the primary medical need of the residents in the communities," Sydiongco said.
A total of 16 super health centers will be established in selected municipalities of the Ilocos Region.
"The objective of the centers is to enable local health care facilities of local government units to provide basic health care services and accommodate patients needing surgery and specialized health care services which will lay the foundation of our goal and mandate, that is 'Universal Health Care For all Filipinos'," she added.
The super health facility here will be constructed at Barangay Esmeralda which has a population of around 33,000.
The groundbreaking was held last week with Senator Christopher Lawrence Go as the guest of honor and speaker.
The center will provide all the basic health needs, including specialized health services at the local level such as out-patient department, laboratory, x-ray, ultrasound, birthing services, diagnostic, pharmacy at emergency services, among others.
Its establishment was in coordination with the provincial government of Pangasinan.
Meanwhile, Governor Ramon Guico III said the province planned to utilize the Reformation and Rehabilitation Center in Burgos town as a mental health facility and a center for abused women.
"There is a need to take care of the mentally challenged residents of our province as there are not many available facilities that will cater to their needs," he said in a recent interview.
Guico said he is preparing for the implementation of the program, and coordinating with concerned departments. (PNA)