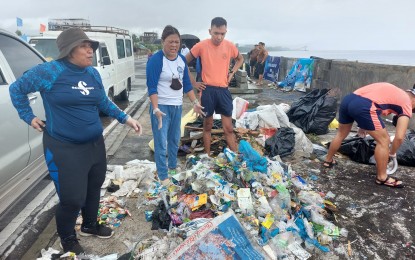 LEGAZPI CITY – The Bureau of Fisheries and Aquatic Resources in Bicol (BFAR-5), together with the Women in Maritime Philippines (WIMA Phils.), has renewed its call to local government units (LGUs) to continuously implement the ecological solid waste management plan after collecting 180 kilograms or at least 30 sacks of garbage in the recently conducted underwater and coastal cleanup in this city.
Nonie Enolva, BFAR-5 spokesperson, on Tuesday noted of an increased volume of collected wastes compared to last year.
"During the activity last Saturday, we collected 180 kilograms of waste -- 145 kgs. non-biodegradable and 35 kgs. biodegradable -- which is around a 12 percent increase compared to last year's record of 150 kgs. waste in the same kilometer stretch of shoreline. During our waste characterization, we noted plastic sachets, food wrappers, plastic wraps/plastic, sando bags, and non-food packaging remain to be the majority of non-biodegradable items. A significant amount of cigarette butts, packs, and lighters are also observed comparably last year," Enolva said in an interview.
The activity dubbed "Scubasurero", which means collecting "basura" or trash underwater, was part of the culminating activity of the 59th Fish Conservation Week observance.
Enolva said the activity aims to engage the public in removing trash and other debris from the shoreline, identify the types of litter in the area, change behaviors that cause pollution, and increase the level of awareness of the people on the extent of the aquatic debris problem.
She also noted of an increase in Covid-19-related wastes such as face masks compared to last year.
The biodegradable wastes recovered included fish gills and scales and mussel shells.
"Legazpi City has a very sound implementation of solid waste management but they have to check on the sewerage of coastal households or perhaps other sources that might have been contributory to these indiscriminate disposals of wastes. This may compromise the overall health of some Legazpeños who are using the shore for swimming," Enolva said.
Divers of BFAR, the Philippine Coastguard, and the Philippine Navy joined the Scubasurero. (PNA)