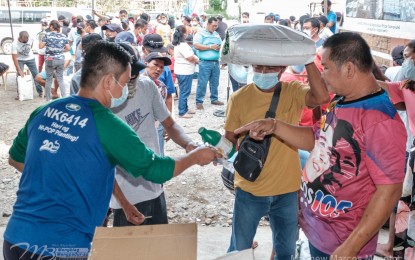 LAOAG CITY – Ilocos Norte has started to roll out clustered farming of tomatoes in 40 hectares of land in various parts of the province.
Acting provincial agriculturist Ma. Teresa Bacnat confirmed this on Tuesday following the distribution of 400 cans of hybrid tomato seeds to farmer-cooperators in the towns of Sarrat, Dingras and Paoay, as well as in the cities of Batac and Laoag.
To complement the free seeds distribution program to farmers, the Ilocos Norte government has also distributed 400 bags of organic fertilizer, 200 bags of complete fertilizer, 80 bags of muriate of potash, 40 bags of calcium nitrate, 80 kilos of foliar fertilizer, 80 laters of insecticide, 80 laters of fungicide, 5 units of water pump with engine sets, 10 rolls of irrigation hose, and 30 units of knapsack sprayers.
Under the clustered farming program, Bacnat said "farmer-cooperators are assured of a ready market and better price for their products" as the agriculture department and the local government unit will help facilitate the technical and marketing assistance for their produce.
"This will also optimize government interventions and assistance," she said, adding that concerned government agencies have been providing training, cutting-edge technologies, and farm inputs to help farmers boost their income.
In support of the Marcos administration's food security program, the Department of Agriculture has been pushing for farm clustering and consolidation, which are among the government's key strategies to level up the country's agriculture sector.
Aside from tomatoes, other high-value crops such as onions and monggo are being clustered and being expanded in the province. Farmers, however, are encouraged to organize themselves as associations to be able to get optimum support from the government.
Last year, at least 180 onion farmers in Salsalamagui village, Vintar, Ilocos Norte hit their production target of 200 metric tons (MT) from their 20-hectare consolidated farm with the help of agriculture experts on high-value crops in the province.
This time, onion clustered farming in Vintar will be expanded to Pasuquin town with 10 hectares, Bacarra with four hectares, Burgos with five hectares, Badoc with seven hectares, Currimao with four hectares, and Pinili with five hectares.
The hybrid onion variety is one of the most sought-after by traders as well as consumers in the region. (PNA)