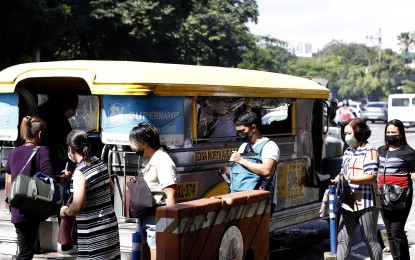 MANILA – The Land Transportation Franchising and Regulatory Board (LTFRB) on Tuesday reminded drivers and operators of public utility vehicles (PUV) to follow its guidelines on the implementation of the fare increase or face fines and other penalties.
The LTFRB said the fare increase for modern and traditional public utility jeepneys (PUJ), public utility buses (PUB), taxis, and transport network vehicle services (TNVS) will all be effective on Oct. 3.
"Hindi maaaring magtaas ng pamasahe ang mga PUV driver at operator hangga't wala pang nai-issue sa kanila na fare matrix guide (PUV drivers and operators cannot ask for a higher fare without a fare matrix guide)," it said.
It ordered PUV operators and drivers to install an updated fare matrix or guide in their vehicles that should be immediately visible to passengers.
Those who charge passengers the increased fare before the said date face a PHP5,000 fine for a first offense, PHP10,000 for a second offense, and PHP15,000 plus cancellation of their certificate of public convenience (CPC) for a third offense.
Such penalties, it said, are part of the rules and policies of the LTFRB that drivers and operators must follow as conditions for holding a CPC and as stated in Joint Administrative Order 2014-01.
It called on the public to report erring PUVs by calling the LTFRB 24/7 hotline 1342, by sending a message at the LTFRB official Facebook page, or by visiting the official website of the LTFRB.
On Friday, the LTFRB announced a fare increase for several PUVs, both for their minimum fare and per kilometer (km) charge.
Traditional PUJs will soon cost PHP12 for the first four kilometers and modern PUJs will cost PHP12, with an additional PHP1.80 and PHP2.20 per kilometer charge respectively.
PUBs, taxis, and TNVS are included in the fare increase brought by the continued rise of fuel prices. (PNA)