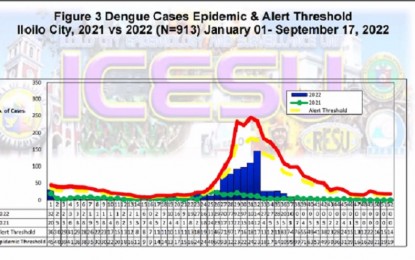 ILOILO CITY – Dengue cases in Iloilo City are already on a downward trend with 913 cases, including two deaths, as of Sept. 17.
However, the number of cases is still higher by 209 percent compared to the incidents for the same period last year.
"For now our dengue has not reached the alert threshold nor the epidemic threshold that's why our cases although it's higher when compared last year is not that alarming for us to declare an outbreak," said Dr. Marigold Calsas, head of the City Epidemiology and Surveillance Unit of the City Health Office.
In a press conference on Tuesday, Calsas said of the total number of cases, four are confirmed, 569 are probable or those that have positive laboratory tests for dengue, and 340 are suspect or those that show symptoms such as fever and rashes but have no laboratory tests.
"We are now on a downward trend as we have already plateaued at 20 cases (per) day for the last seven days," she added.
Medical Officer IV Roland Jay Fortuna, in the same press conference, said that while there is no need for alarm, the anti-dengue campaign has to continue to sustain the declining trend.
The latest death recorded was a 10-month-old male from Bolilao, Mandurriao who died on July 26, 2022.
While cases were from six months to 75 years old, the most affected were from the one year to 10 years old age group.
The city has been keeping a close watch on dengue cases, taking into consideration the increase in cases every three years.
The last time Iloilo City recorded its highest number of cases was in 2019 with 3,345 and 16 deaths.
In 2020 it has 255 cases with two deaths, and 343 cases with no fatality in 2021. (PNA)