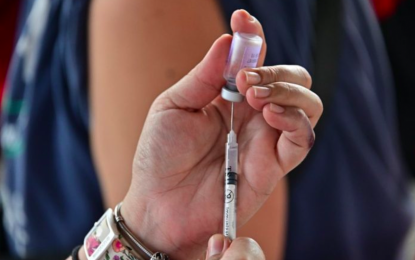 MANILA – Deputy Majority Leader Janette Garin on Tuesday urged people not to be complacent with pronouncements that the end of the Covid-19 pandemic is in sight, saying there will be no end to the pandemic unless people allow themselves to get vaccinated against the deadly virus.
"Naririning natin sa iba na sinasabi na patapos na yung pandemya (We hear from others that the pandemic is on the wane). But on a personal note, I would say let's still take it with a grain of salt. Maigi na rin na preparado tayo. At mas maigi na rin na hindi tayo nagku-kumpiyansa (It is still better for us to be prepared. It is still better for us not to get complacent). Kasi, if you are more prepared, it would be better for our country," the Iloilo 1st District Representative said during the regular Ugnayan sa Batasan at the House of Representatives.
Garin, a former Health Secretary, said while it is true that the second generation of Covid vaccines have shown greater efficacy in preventing infections, the same would only be true if these are administered to the populace.
"This scientific breakthrough will only be effective if people will allow themselves to be vaccinated," she said, adding that vaccination prevents more infections and further mutations.
The Department of Health earlier highlighted the importance of getting the second generation Covid-19 vaccines, as the immunity provided by the primary doses of Covid-19 vaccine is already waning.
The new generation Covid-19 vaccines that have been developed target both Omicron and the original strain of Covid-19.
The virus, which emerged in China in late 2019, has killed nearly 6.5 million people and infected about 618 million, adversely affecting the global economy and overwhelming healthcare systems.
Based on DOH data, the Philippines has logged 3,923,727 cases with 62,587 deaths, as of Sept. 19.
As of August, more than 72 million Filipinos have completed their primary series of vaccination, accounting to about 66 percent of the population.
"The second-generation vaccine is very important, but unless it is used, it is inoculated…. vaccines do not save lives. Vaccination is actually the one that saves lives. And vaccination is the one that will help us bring back our pre-pandemic economy," Garin said. (PNA)