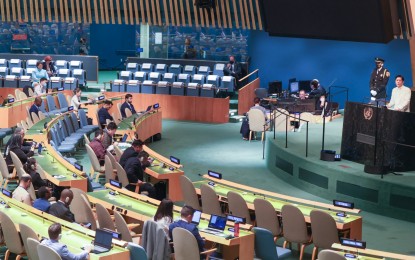 MANILA – President Ferdinand "Bongbong" Marcos Jr. on Wednesday (Manila time) called for a "united effort" among nations to address climate change.
In his debut speech at the 77th session of the United Nations (UN) General Assembly, Marcos said climate change is "the greatest threat affecting our nations and our peoples."
"There is no other problem so global in nature that it requires a united effort, one led by the United Nations," he said in a speech that lasted over 20 minutes.
Despite the Philippines being one of the smallest contributors to CO2 emissions, Marcos said that the country remained to be among the most vulnerable to the effects of climate change.
"The effects of climate change are uneven and reflect an historical injustice: Those who are least responsible suffer the most. The Philippines, for example, is a net carbon sink, we absorb more carbon dioxide than we emit. And yet, we are the 4th most vulnerable country to the effects of climate change," he said.
Marcos emphasized the need for nations to "correct" injustices by accepting their share of responsibilities.
He also enjoined industrialized countries to fulfill their obligations under the United Nations Framework Convention on Climate Change and the Paris Agreement to "cut their greenhouse gas emissions, provide climate financing and technology transfer for adaptation for the most vulnerable, and developing countries to lead by example."
"We look forward to concrete outcomes at the Conference of Parties in Egypt later this year," he said.
Last June, Marcos said he was seriously considering his invitation to attend the UN Climate Change Conference's 27th session of the Conference of the Parties in Egypt in November this year.
Marcos also vowed that the Philippine government would continue to do its part to avert what he described as a "collective disaster."
"When future generations look back, let them not ask why we did not take this opportunity to turn the tide, why did we continue in our profligate ways, until it was too late? This threat knows no borders, no social class, nor any geopolitical consideration. How we address it will be the true test of our time," he said.
In March 2017, the Philippines ratified the Paris climate pact -- a worldwide effort to achieve a below 2-degrees Celsius increase in global temperatures.
The Philippines, which accounts for less than 1 percent of the world's emissions, has committed to reducing its emissions by 70 percent by 2030.
Just a few days before departing for the US, Marcos spent his 65th birthday in a tree-planting activity in San Mateo, Rizal on Sept. 13 as part of efforts to raise awareness on environmental welfare and protection.
The tree-planting initiative is expected to contribute to the government's National Greening Program, the country's most ambitious reforestation program yet.
In his first State of the Nation Address on July 25, Marcos also vowed to increase the Philippines' use of renewable energy sources such as hydropower, geothermal, solar, and wind to help slow down the effects of climate change.
Marcos' working visit to the US is from Sept. 18 to 24.
Shortly after his arrival in the US on Monday (Manila time), Marcos met with the Filipino Community in New Jersey, and on Tuesday (Manila time) attended the New York Stock Exchange Economic Forum. (PNA)