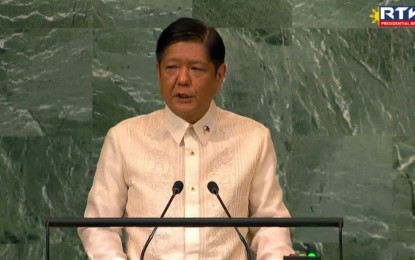 MANILA – President Ferdinand "Bongbong" Marcos Jr. on Wednesday (Manila time) underscored the need for nations to invest in food security, noting that the coronavirus pandemic and Russia-Ukraine conflict have revealed difficulties in accessing food worldwide.
In his debut speech at the 77th session of the United Nations (UN) General Assembly, Marcos emphasized the importance of food as "the very basis of human security."
"We need to take concrete steps towards modern and resilient agriculture. For food is not just a trade commodity nor is it just a livelihood. It is an existential imperative, and a moral one. It is the very basis of human security," he said in a speech that lasted over 20 minutes.
Marcos, who concurrently heads the Department of Agriculture, discussed the Philippines' efforts to address problems in the agriculture sector such as providing innovative solutions and financial support to farmers and fisherfolk to adopt new technologies and connect to national and global value supply chains.
He also expressed a desire to forge cooperation with the UN and other partners to boost agricultural productivity and food security.
"As host to 17 UN agencies, program and funds, the Philippines strongly supports reforms to ensure that the UN Development System delivers as one through its UN Country Team," he said.
Meanwhile, Marcos added that biodiversity must also be protected as part of joint efforts to preserve the planet.
"Water connects our world and sustains our existence, but it is also a finite resource that requires our stewardship. Equally important, our biodiversity must be protected amidst the continuing challenge of climate change. We must enhance our cooperation in these areas," he said.
He recognized the crafting of the 2030 Agenda for Sustainable Development as a platform where societies can build a future that is "resilient" and "inclusive."
However, he also reminded nations to ensure that their development agenda takes into account the interest of all developing nations, including middle-income countries where the majority of the world's poor lives.
Marcos said sustainability also meant equipping people with the tools necessary to meet the challenges of the Fourth Industrial Revolution.
"Investments in education are key, and my administration is prepared to make such investments. The Philippines notes with appreciation the Transforming Education Summit held earlier this week. At which these subjects were taken up," he said.
He, likewise, stressed the creativity and innovation of the youth as a great renewable source.
"We understand the value of harnessing our people's talents by creating a robust and creative economy. We will continue to work with partners in promoting this at the international level," he added.
Marcos' working visit to the US will be from Sept. 18 to 24.
On Monday, he met with the Filipino community in New Jersey, and attended the New York Stock Exchange Economic Forum on Tuesday. (PNA)