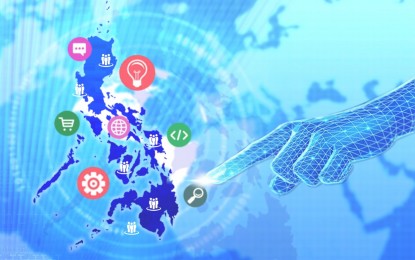 MANILA – Digital transformation would allow all nations to keep abreast of a changing world, President Ferdinand "Bongbong" Marcos Jr. said on Wednesday (Manila time).
Marcos issued the statement during the 77th session of the United Nations General Assembly (UNGA) in New York City, as he lamented that many nations still "barely understand" the use and advantage of digital technologies.
Marcos pitched for the rapid adoption of digital innovations to enable all countries to keep up.
"The development of advanced technologies is rapidly transforming human life and experience. We still barely understand how these transformations are unfolding and where they are leading. The imminent diffusion of these emerging technologies could solve many of our old problems, but they could also disrupt our political and social orders. Our governance structures must keep up," he said.
"The world is ready for transformation. It is up to us as leaders of our nations, to move and shape that transformation," Marcos added.
This, as Marcos also expressed dissatisfaction over the prevalence of "inequalities and inequities" between rich and poor nations which were evident amid the coronavirus disease 2019 (Covid-19) pandemic.
He said the shift to a digital world should benefit not only the rich countries but also the developing nations that look forward to their speedy recovery from the Covid-19 pandemic.
"We remain beset by an unresolved problem: Inequalities and inequities within and among countries continue to persist, and they continue to demand urgent action," he said. "We must use public and private resources to encourage the expansion of trade, investment, and technology transfers to accelerate development. Knowledge and intellectual gains must flow freely to allow those lagging behind to catch up."
Acknowledging the "inalienable right" of all nations to "peaceful uses of all existing and emerging technologies," Marcos said the Philippines is investing in digitalization to help the country bounce back from the pandemic.
He said the use of technical innovations would boost more economic activities.
"The Philippines is preparing for the future by laying the governance framework that will allow us to harness the power of renewable energy, develop the capacity to utilize the life sciences such as medicine and virology, pursue digital solutions towards a more modern economy, and expand our presence in outer space," Marcos said.
"At the same time, we need new structures to govern rapid advances in other areas. We need to start by defining the norms of responsible behavior in cyberspace and outer space and forming legal rules that will prevent the weaponization of artificial intelligence," he added.
Marcos prodded the UN member-states to include in their development agenda the proper use of new technology, saying sustainability requires the development of policies that "go beyond the traditional metrics."
"The diffusion of cutting-edge technology across the economy is promising, but they could come at a cost. Our development agenda must consider the possible displacement of human labor as a result of advances in automation. We must prepare our economic structures for this. We should start building the necessary supports for those sectors affected," he said.
He said knowledge and discovery "remain the keys to unlock the potential of our dynamic future."
"Encouraging our young people's curiosity, honing their skills, and protecting their intellectual properties are important investments," Marcos said.
Marcos earlier said his administration, as a participant in the "new digital world," would seek collaboration with the private sector to make public transactions easier and more convenient. (PNA)