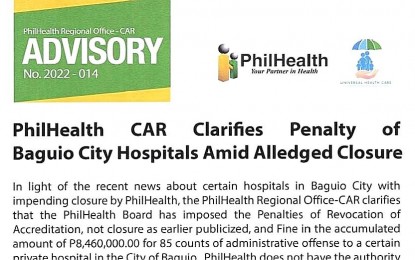 BAGUIO CITY – The Philippine Health Insurance Corp. (PhilHealth) in the Cordillera Administrative Region (CAR) on Wednesday said affected hospitals can still appeal the revocation of their accreditation with the state insurer due to various violations.
In an advisory, PhilHealth CAR acting regional vice president Imelda Cristeta Villamar said the decision of the PhilHealth board against a certain hospital that it did not identify "may still be appealed to higher courts".
The hospital, Villamar said, has been slapped with an accumulated fine of PHP8.46 million for "85 counts of administrative offense" due to its failure to comply with its "performance commitment" with the state insurer due to violations of Republic Act 9994 or the Expanded Senior Citizens Act of 2010 and the Department of Health's (DOH) guidelines on the grant of 20 discount to senior citizens on health-related goods issued in 2017 and PhilHealth Circular No. 56 series of 2012 which grants 20 percent senior citizen discount to PhilHealth patients.
Meanwhile, she said another hospital whose accreditation was revoked by the PhilHealth's Arbitration Office can still file an appeal with the PhilHealth board "within 15 calendar days from receipt of such decision".
Villamar also clarified that the state insurer does not have the power to close down erring hospitals, following reports of the closure of some hospitals in the city.
"PhilHealth does not have the authority to close hospitals or terminate their license to operate since this action resides with the Department of Health," she added.
Baguio City Mayor Benjamin Magalong on Tuesday assailed the state insurer's decision to revoke the accreditation of Saint Louis Hospital of the Sacred Heart and Notre Dame de Chartres Hospital which he described as "very inconsiderate, very inappropriate, very unreasonable, and very unconscionable".
The mayor said 95 to 98 percent of the patients of the two facilities, which are tertiary hospitals catering not just to Baguio and Benguet residents but those from nearby regions and providing state-of-the-art medical services, are PhilHealth members who rely on the state insurer for their health needs.
Magalong has sent a letter of appeal for reconsideration to PhilHealth regarding the matter. (PNA)