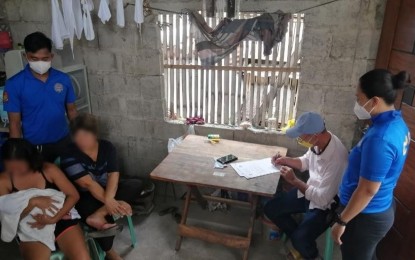 ILOILO CITY – Investigation on the reported "rampant" trafficking of infants in Iloilo City continues even with the successful entrapment operation that was conducted by authorities on Tuesday.
Major Jess P. Baylon, Criminal Investigation and Detection Group (CIDG) Iloilo City chief, in an interview on Wednesday, said their office was ordered by their national headquarters to conduct a thorough investigation and information gathering on the veracity of the intelligence information about the rampant selling of infants here a couple of months ago.
Baylon identified those arrested in the entrapment as Ana M. Agustin, 53, and Edelyn De Pedro Pendon, 29, both residents of Barangay Boulevard in Molo district.
Rescued was a five-day-old baby boy sold for PHP40,000; with PHP15,000 of the money going to Agustin and the rest to Pendon, the child's mother.
"This is the first time that this kind of operation against human traffickers has prospered. This subject person Ana will be subjected to further investigation because based on information that we received, she is also involved in series of abortion activities here in Iloilo City," Baylon said.
Agustin, based on reports, has contacts with those selling infants while at the same time also helping women to get rid of their pregnancy.
Both claimed that it was their first time engaging in the illegal act.
Agustin said she only wanted to help Pendon who, on the other hand, claimed she sold her baby due to poverty.
The baby is the sixth child of Pendon from her husband who allegedly has no idea about the transaction.
The rescued baby is currently under the care of the City Social Welfare and Development Office (CSWDO) while an inquest is ongoing for the two suspects at the City Prosecutor's Office.
They will be charged for violating Republic Act (RA) 9208 or Trafficking in Persons Act of 2003; and RA 7610 or the Child Abuse Law.
Baylon said aside from the entrapment operation, they were likewise gathering information on personnel of hospitals and lying-in clinics, who allegedly look for prospective buyers of infants from unwanted pregnancies.
"The CIDG, the CSWDO are eager to conduct this operation because this is (the) worst kind of modus. Parents who would like to adopt a baby, there is a process that should be followed in (a) legal way," he said. (PNA)