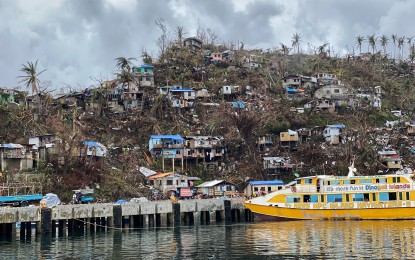 MANILA – House Committee on Disaster Resilience Chair Alan 1 Ecleo on Wednesday lauded President Ferdinand "Bongbong" Marcos Jr. for prioritizing the issue of developing countries suffering the most from climate change during the latter's speech at the 77th United Nations General Assembly.
"Just like how we Filipinos show unity of action and purpose with each typhoon that devastates our country, we want the global community to also show unity in cutting emissions and developing the resilience of the most vulnerable. We are glad that PBBM echoed this in his speech before the United Nations," Ecleo said.
He made the statement after Marcos called on "industrialized countries to cut their greenhouse gas emissions and provide climate financing and technology transfer for adaptation for the most vulnerable and developing countries."
Ecleo, whose province of Dinagat was leveled by Category 5 Typhoon Odette in December last year, pointed out that "the demands of adaptation to climate change, along with the rehabilitation from climate-related disasters, are mounting and we cannot continue to have developing countries like the Philippines be the ones to pay the price."
"Rich, industrialized countries who have profited much from centuries of emission-fueled development must pay their fair share to vulnerable countries by sharing the cost of adaptation, mitigation, and rehabilitation efforts," Ecleo said.
Earlier, Ecleo filed House Resolution 289 calling on the Departments of Education (DepEd), and Public Works and Highways (DPWH) to come up with a master design for disaster resilient schools.
During the Disaster Resilience Committee hearing last Sept. 15, he also asked the Office of Civil Defense (OCD), Department of Social Welfare and Development (DSWD), and other departments involved in disaster resilience and response to produce where rehabilitation funds for Odette went. (PNA)