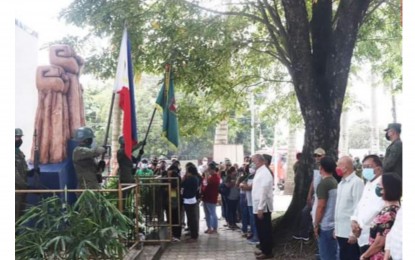 BACOLOD CITY – The city government of Escalante in Negros Occidental has paid tribute to the farmers who lost their lives during the Escalante Massacre in 1985 in rites held at the public plaza on Tuesday.
The commemoration looked back at the event 37 years ago, where 20 people died and several others were injured after they were shot by paramilitary forces during a protest rally held a day before the 13th anniversary of the declaration of Martial Law.
In a statement on Wednesday, Lt. Col. J-jay Javines, commanding officer of the Philippine Army's 79th Infantry Battalion, said that since 2019, the event was commemorated in a new way after the community accepted the apology of the security forces.
"For the longest time, the situation was used to fuel hatred against the government. But now, as we can see, the commemoration serves as a peaceful venue for reconciliation," he added.
Javines appealed to the families of the victims not to become a prisoner of the past.
"Let's us move forward and learn the lessons from the past, but don't let it haunt your future," he added.
Javines also assured the people of Escalante that the Philippine Army, Philippine National Police, and the local government unit will always ensure the safety and well-being of every Negrense, and work together to achieve peace.
In his message, Vice Mayor Rogelio Prietos continued to call for healing as he encouraged the families of the victims to continue to forgive.
Prietos joined Javines and the families of the victims during the wreath-laying in front of the Escalante Massacre monument, which was followed by a traditional 21-gun salute.
In 2019, authorities from the military and the police apologized for the tragedy brought by the Escalante Massacre through statements of apologies delivered during the event's 34th-year rites held at the Escalante City Coliseum. (PNA)