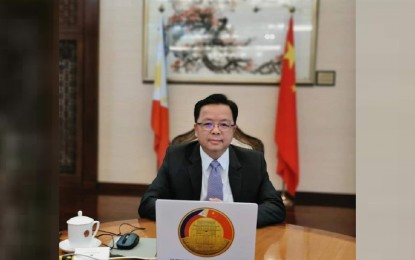 MANILA – The Chinese government is ready to strengthen its cooperation with the Philippine government as it enforces the law on crimes related to Philippine Offshore Gaming Operators (POGOs).
In a statement on Wednesday, Chinese Ambassador to the Philippines Huang Xilian said the Chinese government "firmly" opposes gambling and takes tough measures to combat it.
This came after Huang's meeting with Justice Secretary Jesus Crispin Remulla who said the Philippine government would continue to end the illegal activities in cooperation with the Chinese government.
"According to the Chinese laws and regulations, gambling in whatever form by Chinese citizens, be it online gambling or gambling overseas is illegal," he said. "Crimes induced by and associated with online gambling not only harm China's interests and China-Philippines relations, but also hurt the intrerests of the Philippines."
Earlier, about 175 POGO firms closed, leaving 40,000 Chinese nationals with no jobs, and maybe staying in the country illegally.
"It is appreciated that relevant Philippine law enforcement agencies rescued a number of Chinese citizens and shut down some POGO companies during their recent operations," Huang said.
The rescued Chinese citizens are at the Bureau of Immigration detention facility in Taguig City awaiting deportation.
Huang noted that the Chinese Embassy in the Philippines will handle the deportation and other issues "in a constructive manner."
Department of Justice (DOJ) spokesperson Mico Clavano said officials of the DOJ and Chinese Embassy will have a "face-to-face" meeting on Thursday to further discuss the deportation of the affected POGO workers.
"These must be a coordinated effort between the two countries to bring them back to China given that they have no more basis to stay here in the Philippines," Clavano said.
The Philippine Amusement and Gaming Corp. (PAGCOR) earlier expressed concerns over the rise of crimes related to POGO operations in the country.
Alejandro Tengco, PAGCOR chairman and chief executive office, said there will be greater inter-agency cooperation to safeguard the welfare and safety, not only of Filipinos but also of foreigners working in POGOs.
Tengco said President Ferdinand "Bongbong" Marcos Jr. is aware of POGO-related kidnapping cases and other illegal activities in the country, thus the Chief Executive ordered them to tighten the operations against illegal operators.
Some lawmakers have pushed to ban POGO operations in the country due to crimes that have been associated with it.
Finance Secretary Benjamin Diokno also said he is in favor of discontinuing the POGOs due to their "reputational risk." (with reports of Benjamin Pulta/PNA)