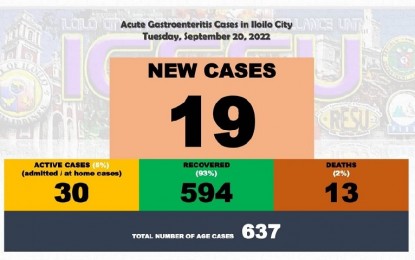 ILOILO CITY – The city government of Iloilo is eyeing to put an end to open defecation practice in barangays as one of the permanent solutions to the acute gastroenteritis (AGE) problem.
City Health Office Medical Officer IV Roland Jay Fortuna on Wednesday said their sanitary division has an ongoing evaluation of barangays on zero open defecation (ZOD) although it was temporarily stopped to focus on AGE and monkeypox.
"We continue to campaign for zero open defecation. Last time we awarded I think 20 barangays while evaluation is ongoing for the rest of other barangays. If possible we would like to comply the zero open defecation in all the 180 barangays," he said in an interview.
The city government awarded the certificate of ZOD to Barangays San Rafael, South Fundidor, North Fundidor, North Avanceña, Tap-oc, Compania Central, Quezon (Arevalo), San Jose (Arevalo), San Agustin, Lopez Jaena Norte, Bantud, Divinagracia, Magsaysay (City Proper), Veterans Village, CC El 98, Our Lady of Lourdes, Javellana (Jaro), Luna (Jaro), Buhang, and Quintin Salas during the flag raising program on Sept. 5.
Fortuna said one of the plans of the city government was to put up a six-cubicle communal toilet in areas where there are no sanitary toilets as an ongoing response to AGE cases.
Meantime, as of Sept. 20 the City Epidemiology and Surveillance Unit has reported that recoveries from the disease have already reached 594 out of the 637 total cases.
However, two additional reported deaths raised the total deaths to 13, and three new confirmed cholera cases brought the incidents to 15.
The Iloilo Provincial Health Office (IPHO) said that none of the 1,721 barangays in the province are into open defecation.
"All the 1,721 barangays in the province have been verified and certified as zero open defecation (ZOD) barangays. That means that our 43 LGUs in the province of Iloilo are also ZOD municipalities," said IPHO head Dr. Maria Socorro Quiñon, in a recent media interview.
Iloilo is the first ZOD province in Western Visayas and third in the country, next to Sarangani and Leyte provinces, she added.
The provincial government annually has allocated PHP5 million as mandated in its ZOD Ordinance where residents with no sanitary toilets are provided with toilet bowls, cement, and pipes.
The province, as of Sept. 19, was left with seven AGE active cases out of its total 50 patients. (PNA)