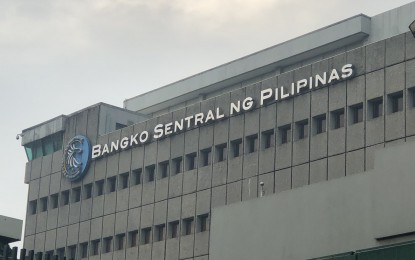 MANILA – An official of Metropolitan Bank & Trust Co. (Metrobank) forecasts another 50 basis points increase in the Bangko Sentral ng Pilipinas' (BSP) key rates on Thursday, citing among others the impact of the rate uptick on the foreign currency trading.
In an interview by journalists on Wednesday, Metrobank Financial Markets Sector head Toto Tansingco said the BSP has to address the impact of another expected increase in the Federal Reserve rates this week.
The Federal Open Market Committee (FOMC) is expected to announce a 75 basis points increase in the Federal Reserve funds rate after its Sept. 20 to 21 meeting to address the elevated inflation rate in the United States.
Consumer price index (CPI) in the US decelerated to 8.3 percent last August from the previous month's 8.5 percent, but expectations are for it to slow to around 8.1 percent.
Tansingco said the Fed may increase its key rates by 100 basis points as some analysts project but noted this "might signal panic" among market players.
"It's still a possibility. It's a bigger possibility now than before but it might signal that inflation is running out of control," he said.
For the BSP, Tansingco said this will mean higher interest rate differential, which will provide further depreciation pressure to the local currency.
He forecasts the BSP's policy-making Monetary Board (MB) to again increase the central bank's key rates by another 50 basis to 4.25 percent for the overnight reverse repurchase (RRP) rate.
The MB has increased the BSP's key rates by 175 basis points since last March due to elevated inflation rate in the domestic economy.
The local currency continues to depreciate against the US dollar due to the latter's strengthening given the Fed rates hikes.
After posting another all-time low against the US dollar on Tuesday at 57.48, the local unit touched the 58-level against the greenback in the morning session on Wednesday.
While the Fed decision is among the considerations for any MB decisions, Tansingco said local developments remain the primary factor in the BSP's key rate adjustments given the domestic central bank's inflation-targeting framework.
"BSP is not really targeting any exchange rate, they're doing inflation-targeting. But at a certain point, pag masyadong weak na ang currency mo, (if your currency is already very weak) it will flow through inflation," he said.
To date, BSP's overnight reverse repurchase (RRP) rate is at 3.75 percent while the Federal Reserve funds rate is between 2.25 to 2.50 percent.
Asked if a 100 basis points difference between the BSP and the Fed rates is a good leeway for the local currency, Tansingco said "it will stabilize the peso." (PNA)