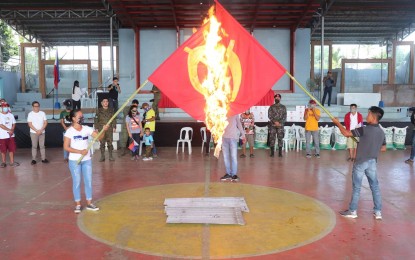 DUMAGUETE CITY – Sixteen members of the Communist Party of the Philippines-New People's Army (CPP-NPA), including ranking leaders, surrendered to authorities in Guihulngan City, Negros Oriental on Tuesday.
The former rebels (FRs) were members of the CPP-NPA's Central Negros 1, Komiteng Rehiyon-Negros, Cebu, Bohol, and Siquijor (KR-NCBS) under the Leonardo Panaligan Command, a media release from the 62nd Infantry Battalion on Wednesday said.
They were formally turned over to the Task Force to End Local Communist Armed Conflict (TF-ELCAC) in Guihulngan City on Tuesday afternoon.
The surrenderers included the commanding officer of the Sentro de Grabidad Platoon, one political instructor, and one medical officer.
The ceremonial declaration and turnover of the former rebels was led by Brig. Gen. Inocencio Pasaporte of the 303rd Infantry Brigade of the Philippine Army, with military, police, and local government officials in attendance.
Nine other former NPA members had surrendered last March to Lt. Col. William Pesase, 62IB commander.
The FRs formally withdrew their support from and denounced the CPP-NPA and the National Democratic Front (NDF) by rendering the "Panumpa sa Kalinong", led by Guihulngan Mayor Filomeno Reyes, the chair of the city's TF-ELCAC.
A prayer and candle lighting ceremony was also offered for the victims of NPA atrocities and human rights victims, followed by a symbolic burning of the CPP-NPA flag by the FRs and releasing of doves to signify peace.
The surrenderers also received livelihood assistance in the form of 25 heads of goats, 25 sacks of fertilizers, 25 boxes of hygiene kits, and clothes.
The mass surrender was the result of the 62IB and the Philippine National Police's focused military operations, intensified information operations, and local peace engagement that pressured the leadership and members of these FRs.
The CPP-NPA is listed as a terrorist organization by the United States, European Union, the United Kingdom, Australia, Canada, New Zealand, and the Philippines.
The National Democratic Front has been formally designated as a terrorist organization by the Anti-Terrorism Council on June 23, 2021, citing it as "an integral and inseparable part" of the CPP-NPA created in April 1973. (PNA)