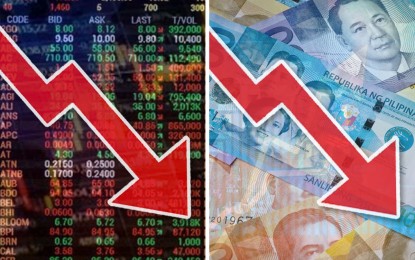 MANILA – The main stocks index shed anew on Wednesday while the peso posted a fresh all-time low against the US dollar as the Federal Reserve's Federal Open Market Committee (FOMC) started its two-day policy meeting.
The local currency registered another record-weakest against the US dollar, the eighth for the year, after it finished the day at 58.00 from 57.48 on Tuesday.
It opened the day at 57.7 and traded between 57.7 and 58. The average level for the day stood at 57.89.
Volume reached USD1.05 billion, higher than the USD967 million a day ago.
Rizal Commercial Banking Corporation (RCBC) chief economist Michael Ricafort traced the peso's continued slide to expectations for at least another 75 basis points rate hike from the Fed.
He said the rise in US Treasury yields added pressures on the local currency.
Ricafort forecasts the currency pair to trade between 57.85-58.05 on Thursday.
Meanwhile, the Philippine Stock Exchange index (PSEi) shed 1.66 percent, or 106.77 points, to 6,341.69 points.
All Shares followed with a decline of 1.38 percent, or 47.22 points, to 3,385.52 points.
Majority of the sectoral gauges tracked the main index, led by Financials after it fell by 2.49 percent.
It was trailed by the Property index, 2.22 percent; Services, 1.95 percent; Industrial, 1.93 percent; and Holding Firms, 0.56 percent.
Only Mining and Oil gained during the day after it rose by 0.18 percent.
Volume was thin at 569.25 million shares amounting to PHP5.42 billion.
Decliners surpassed advancers at 151 to 39 while 33 shares were unchanged.
"Philippine shares were sold on the first day of the FOMC's meeting as investors braced themselves for another interest rate hike announcement later," said Luis Limlingan, Regina Capital Development Corporation (RCDC) head of sales.
The Federal Reserve funds rate is widely expected to be hiked by another 75 basis points to between 3 to 3.25 percent as US' inflation rate remains elevated as of last August.
Limlingan cited the rise in US' two-year Treasury yield to 3.99 percent, its highest since 2007.
He said the yield of the 10-year US Treasury touched 3.6 percent, its highest since 2011.
Limlingan added that oil prices fell, with the Brent crude oil futures declining by 1.9 percent to USD90.23 per barrel and the West Texas Intermediate (WTI) by 1.49 percent to USD84.45 per barrel. (PNA)