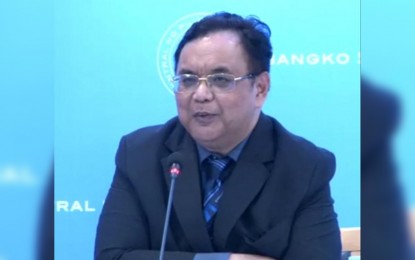 MANILA – The rate of the Bangko Sentral ng Pilipinas' (BSP) term deposit facility (TDF) rose anew on Wednesday ahead of the rate setting meeting decisions of both the central bank and the Federal Reserve.
The average rate of the seven-day facility inched up to 3.9942 percent and the 14-day facility to 4.1681 percent.
These were at 3.8543 percent for the shorter tenor and 3.9577 percent for the two-week TDF during the auction last Sept. 14.
The BSP kept the offer volume for the one-week TDF at PHP140 billion but lowered by PHP20 billion to PHP80 billion the offering for the two-week facility.
The auction committee fully awarded the one-week tenor facility, which attracted tenders amounting to PHP224.229 billion.
Bids for the longer-tenor TDF were lower than offer at PHP68.775 billion. The auction committee awarded PHP46.225 billion worth of debt securities.
In a statement, BSP Deputy Governor Francisco Dakila Jr. said total bids in this week's TDF auction is higher than what they expected.
Dakila said auction results "reflect the continued preference for the shorter tenor ahead of the BSP's policy meeting amid ample liquidity in the financial system."
BSP's policy-making Monetary Board (MB) will have its rate-setting meeting on Thursday and it is expected to again raise the central bank's key rates by 50 basis points.
The Federal Reserve's key rates are widely expected to be increased by at least 75 basis points as the US' inflation rate remains elevated.
"Going forward, the BSP's monetary operations will remain guided by its assessment of the latest liquidity conditions and market developments," Dakila added. (PNA)