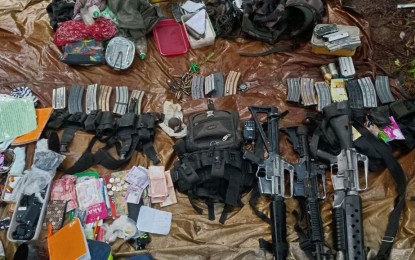 MANILA – Three communist rebels were killed in an encounter with government troops that foiled their attempt to attack the Kaliwa Dam in Quezon province on Tuesday.
In a statement Wednesday night, Lt. Col. Nestor Estolas, public affairs office chief of the Philippine Army's 2nd Infantry Division (2ID), said the clash took place at Sitio Lagmak in Barangay Pagsangahan, San Francisco town.
He said the slain rebels are part of a larger group that planned to attack the facility.
"Soldiers from the 1st Infantry Battalion and 22nd Division Reconnaissance Company were conducting combat operations at Sitio Lagmak in Barangay Pagsangahan after receiving information from concerned citizens about a planned terror attack at Kaliwa Dam. This led to the interception of 25 armed personalities believed to be members of KLG (Kilusang Larangan Guerilla) Narciso and EXECOM (Executive Committee) of the Southern Tagalog Regional Party Committee's Sub-Regional Military Area 4A, which is led by its secretary Janice Javier alias Yayo," he added.
There were no casualties among government troops following the encounter.
Also recovered from the clash site were two M-16 automatic rifles, an R-4 rifle, and one M-203 grenade launcher.
"The accomplishment of our troops is not to rejoice the death of our fellowmen who were misled to fight for the CPP-NPA-NDF's (Communist Party of the Philippines-New People's Army-National Democratic Front) selfish cause. However, we are together in this war that we must win to bring peace and development across Southern Luzon. We are urging those who are still in arms to surrender and support the government in its nation-building efforts for a better future for our families," added 2nd Infantry Division acting commander, Brig. Gen. Rommel K. Tello. (PNA)