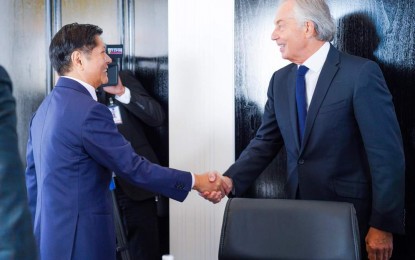 MANILA – President Ferdinand "Bongbong" Marcos Jr. on Wednesday (Manila time) discussed with former United Kingdom (UK) Prime Minister Anthony Charles Lynton Blair the global economic issues and peace-building initiatives in the Bangsamoro Autonomous Region in Muslim Mindanao (BARMM).
The issues were raised during Marcos' meeting with Blair in New York City.
Apart from the BARMM peace process, Marcos and Blair also tackled ways to ensure food security, address climate change, and boost trade.
"We tackled the optimistic peace process in the Bangsamoro Autonomous Region of Muslim Mindanao (BARMM) and explored concrete ways to address other priority issues in the global economy such as food security, climate action, and trade," Marcos said in a Facebook post.
Marcos is currently in the United States (US) for a working visit.
Blair, on the other hand, serves as the current executive chairperson of the Tony Blair Institute For Global Change, a non-profit organization that provides support to political leaders and governments to build open, inclusive, and prosperous societies in a globalized world.
As longest-serving Labor Prime Minister of the UK, Blair's notable accomplishments include overseeing the Northern Irish peace process, public sector reform, and the response to terrorist attacks on Sept. 11, 2001, and July 7, 2005.
Marcos, in his keynote address during the 77th session of the United Nations General Assembly (UNGA) on Wednesday (Manila time), Marcos said "inclusive dialogue" has contributed to the Philippines' success in attaining lasting peace and development in BARMM.
"The peace that we have forged after many decades of conflict among warring factions and clansmen demonstrates that unity is possible even in the most trying circumstances," he said.
Marcos said the country also takes the same approach in Asia, stressing that it forges partnerships for peace and development through inter-faith and inter-religious dialogue, especially in the Association of Southeast Asian Nations.
"In the face of great diversity, we believe that partnerships form the bridge to unite all of us in promoting peace and stability in the Asia Pacific region," Marcos said.
Marcos is on the fourth day of his six-day trip to the US where he is expected to hold more bilateral talks with heads of state and woo foreign investors and big businesses. (PNA)