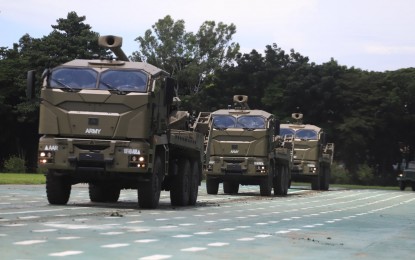 MANILA – The Philippine Army (PA) on Wednesday held send-off ceremonies for two batteries or eight units of the newly-acquired Autonomous Truck Mounted Howitzer System (ATMOS) 155mm self-propelled guns which will be seeing action in conflict areas in Mindanao.
PA spokesperson, Col. Xerxes Trinidad, in a statement Thursday, said Department of National Defense (DND) officer-in-charge, Undersecretary Jose C. Faustino Jr., led the send-off ceremonies which took place at the Philippine Army Grandstand in Fort Bonifacio.
"These assets are considered game-changers as they will certainly bolster the Armed Forces of the Philippines's (AFP) internal security operations for a decisive victory against enemies of the state. We are optimistic about your capability. Thus, we expect you will contribute significantly to our peace efforts in all conflict-affected areas that you will be deployed," Faustino told members of the 10th "Rolling Thunder" Field Artillery Battalion (155-SP).
The 10th Field Artillery Battalion is the mother or primary unit tasked to operate and maintain the 12 newly-acquired ATMOS self-propelled guns which are divided into three batteries of four howitzers each.
The "Rolling Thunder" Battalion was activated in June 2022. Meanwhile, PA chief, Lt. Gen. Romeo S. Brawner Jr., called on 10th Field Artillery Battalion troopers to further enhance their core competencies so they can "effectively and efficiently operate and maintain" the Army's game-changer weapons systems.
Trinidad, in a separate interview, said the ATMOS 155mm self-propelled guns are "easily deployed even in ragged terrain and truck-mounted guns not towed."
He added that these new weapons have a maximum range of 41 kilometers depending on the type of ammunition used and have "target precision of up to 10-kilometer radius."
Trinidad earlier said the ATMOS 155mm howitzer system is a "shoot-and-scoot" weapon that can be rapidly deployed in rugged terrain.
"The weapon incorporates an 'inertial navigation system' (INS)-based gun-laying method and an automatic loader," he added.
The PA received 12 ATMOS howitzer units in December 2021 from Israeli defense company Elbit Systems.
The self-propelled artillery pieces are procured under the Horizon 2 of the Revised Armed Forces of the Philippines Modernization Plan. It is worth PHP2.4 billion.
The ATMOS 155mmm howitzer system would augment the existing 155mm towed-howitzers being operated by the Army Artillery Regiment. (PNA)