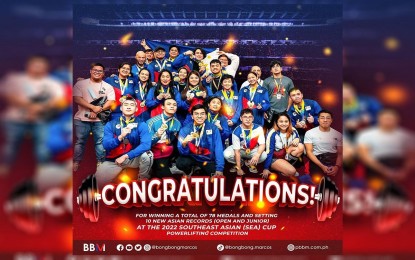 MANILA – President Ferdinand "Bongbong" Marcos Jr. on Wednesday hailed the Philippine Powerlifting Team for their successful showing during the 2022 Southeast Asian Cup in Johor Bahru, Malaysia.
"Iba ang lakas ng Pilipino! Ating binibigyang-pugay ang mga atletang Pilipino na lumahok sa Men's and Women's Open and Junior category ng 2022 Southeast Asian Cup sa bansang Malaysia (The strength of Filipinos is something else! We pay tribute to the Filipino athletes who participated in the Men's and Women's Open and Junior category of the 2022 Southeast Asian Cup in the country of Malaysia)," Marcos said in his official Facebook page.
The Filipino team bagged 78 medals -- 44 gold, 17 silver, 17 bronze -- in the Men's and Women's Open and Junior categories.
"Maraming salamat sa karangalang inyong nakamit para sa ating bansa. Mabuhay kayo at lahat ng atletang Pilipino (Thank you very much for the honor you have achieved for our country. Long live to you and all Filipino athletes)," he added.
Powerlifting Association of the Philippines president Eddie Torres, for his part, said the Filipino team already had an idea how they would perform based on nominations.
"We did pretty good as expected but still kahit na (even if it was) expected very happy tayo diyan sa resulta (we're happy with the results)," he said in an interview on PTV-4.
Torres said the Philippine Powerlifting Team's recent performance shows that the country is one of the "powerhouses" in powerlifting.
Currently, the Philippine Powerlifting Team is preparing for the Asian Championships in December.
The SEA Cup, held from Sept. 15 to 18, was organized by the International Powerlifting Federation, Asian Powerlifting Federation, and Malaysian Association for Powerlifting.
Powerlifting is a barbell strength sport that revolves around lifting the most amount of weight in the Squat, Bench Press, and Deadlift. (PNA)